The aliens have landed.....
The 300 Impco
(A1 to A4 is 348 cfm and A5 is 432 cfm at 1.5"Hg,
or 490 and 610 cfm at 3"Hg)
is a the best dual fuel gasoline/propane carb ever, as there is no restriction to carburetor airflow on gasoline. It's just an open air cleaner.
Rated limit is 216 hp for the CA 300 a1 to a4, the CA 300 A5 can flow 270 hp)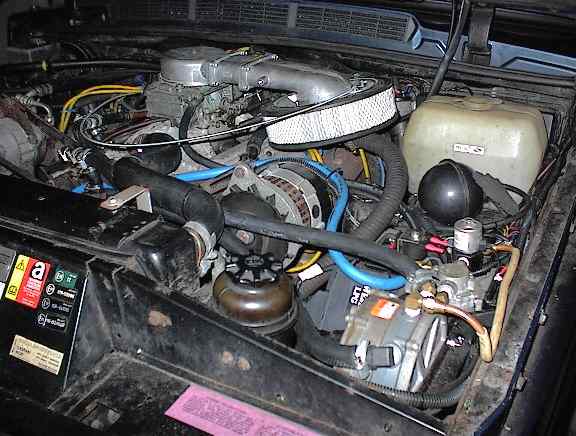 The CA 125 is the best for sole Propane economy on a 300, but at only 202 cfm, it won't go over 125 hp.
The CA 425 is best for performance on propane. It's rated at 460 cfm at 1.5"Hg. That's enough for 287 hp. Sad thing is that it isn't a great dual fuel carb on a 300 becasue it needs a
big
engine to run it. It can be mounted to the 4150, 4300G/ 4M Rocehster/ metal Carter 4-bbl as a dedicated propane number, or mounted at 90 degrees with this.
There are even 920 cfm twin carb kits.
The grab the stock 4 or 2-bbl Offy manifold, add a 2150 Motorcraft or Holley 390 4-bbl, and add the CA 300 carb on the extension.
Take the stock TFI/HEI Duraspark ignition, and add an alternative circuit to fit a customised propane dedicated igniton curve. Switch it from the electric micro switch on the 300 carb.
70% of compromises with Dual fuel is the the ignition sytem.
30% is caused by having an lpg mixer too far away from the gasoline carb, and then having it pass thourgh the 15 to 35% bump in the carbs venturi.
The igniton I will deal with first. Autotronics made a sytem back in 1984 which had a dual curve MSD unit, but all electonic modules can be unreliable, and when they break down, they leav you standed. Use the stock ignitoion curve on gasoline, which is 9 degrees at the crank at 1200 rpm loaded, or 18 total at 1200 rpm, then steady rise to 38 degrees all in at 3500 rpm depending on conditons. With Lpg, dial in 9 degrees static, 24 degrees total in at 1200 rpm, then quicly up to 32 degrees total at 2500 to 2800 rpm. Don't ever go over 32 degrees. Stick with 30 dgrees total if your truck is going to be towing lots.
There are O2 sensors, and CARB approved conversions.
See
http://www.wps.com/LPG/annotated-pictures/
Tip is to buy two stock units, and two aftermarket LPG MSD units. Such systems as the Dutch Iwema system is a fully adjustable system, but all changovers between gasoline and propane must be done automatically when the fuel supply is changed over.
The gasoline carb issue with LPG will never be sorted. Propane is 5 to 10% more thirsty with a gasoline carb than on its own, add a long goosneck, and you have to limit igniton advance to provent a lean backfire.
If you want to use the 4.9 efi, and are ambitious, then you can use two CA 125 carbs unpostream of the two throttle bodies, and use this switch to control the ignition and injection.
http://www.mr2mk1club.com/LPG_files/wiring.jpg
Sometimes, you can trigger the open loop EEC/OBDII igniton settings, and wind the ignition timing right back to the recomedned 32 degrees at 2800 rpm. The stock timing can be wound forward to 9 degrees on the crank.
Final word is that Impco, Century are best, while OHG and others are way behind. Log onto the Impco Tech section on the website, and go for it. The California based Impco systems have given me 25 000 miles of fun for 8 years in two six cylinder Fords, so I'm not just gassin' off!
See kastangs parkinglot
http://www.kastang.net/fsp/xecute.html
http://www.kastang.net/fsp/xecute/XECarbImpco.jpg