Click Here -> Please Consider Making a PayPal Contribution to the FordSix Forum!
2019 Contributors:

NJwpod, 1strodeo, mightynorseman, maxtrux, 6d7coupe, broncr, Phase3, 68Flareside240, bmbm40, mustang6, WorldChampGramp, justintendo, BigBlue94, ags290, motorsickle1130, Rooster, ousooner919, ethanperry, rzcrisis, DoctorC, jamyers, Motorboy, fastpat, Silverback280, chad, drag-200stang, THE FRENCHTOWN FLYER, Jimmys61falcon, rjonah, Sooshi, Robert92867, Invectivus

PLEASE TEST ON
http://dev.fordsix.com
<<<***PLEASE READ*** New Site Update >>>
couldnt find anything on this in the shop manual. any advise would be welcome

thanks
---
Registered User
Posts: 224
Joined: Thu Jun 21, 2007 2:36 pm
I have a 61 and it should just slide out?
---
Registered User
Posts: 113
Joined: Sun Dec 06, 2009 5:53 am
Location: Flagstaff,AZ
I am pretty sure there are two tabs that hold the seat part down in the front. You need to carfully place something under the front of the seat to pry it up and it should release. When the seat is loose it should slide forward (twards the front of the car) leaving just the seat back. The seat back has a couple of screws through the trunk side that need to be pulled, then it slides up and out. Well Best of luck
---
thanks very much. sounds like that makes sense. wanted to make sure before pulling and prodding !!
---
I strongly suspect that the retention brkt in a 2 door is in the same place (cross car) as the 4 door. Pry on the front lower edge of the seat cushion frame about 9 inches inboard from the rocker inner. Should pop right up and then slide forward as others have mentioned. I can pop my rear seat out with just using my fingers (no tools). Reinstall is the reverse - seat cushion frame in place and press down until the frame snaps over the retention brkt.
61
, Deluxe trim & original 54 yr old factory padded dash. Custom interior, stock color base/clear, 275K mi, My car for the last 47 years (OK, first decade "ownership" from the left
rear
seat). '78 200, 3.03 manual trans, '73 dist w/ points & TFI ign, Weber32/36, 15 wheels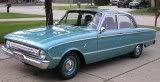 91 F150 4.9
almost stock
---
Who is online
Users browsing this forum: No registered users and 2 guests