thought i'd post up this -
may be familiar if you peruse other falcon forums ... but posted here to spread the falcon love
its an australian production january 1961 deluxe roundbody - XK falcon the model was called here - went from sept 1960 till about feb 1962.
all right hand drive and all 4 doors - pity we never got the 2 door roundbodys here.
for the first year of production only engine was the 144 , then to compete with the opposition (GM and chrysler) upped to optional 170ci.
this is 3 speed manual and was originally a 144 but now a powerhouse 170ci
got it beginning of march (2010!)-
i'm in Australia - melbourne (state of Victoria) and car was in brisbane in state of queensland - approx 2000km (1200miles) away- yeah we are all metric here .
makes it interesting driving to speed limits with an imperial speedo and metric road signs - but you get used to it
i bought it sight unseen except for some photos
so heart in mouth went for it .
next was how to get it down to melbourne - as the car had been unregistered for a year
so was considering a road trip on an unregistered vehicle permit or transport company.
BUT seller was an ex melbourne chap and was coming down to visit his parents and pick up a boat (was going to put his boat + boat trailer on the car trailer and take whole package back to brisbane)
did a deal and arrived on monday 8 March .
luckily he missed (dodged?) a huge hail storm in melbourne we had on the saturday - so no new dents
not a project but really good condition with a few bits to do. it has been repainted in its life - a few bits of bog(bondo) but hey
overall pretty happy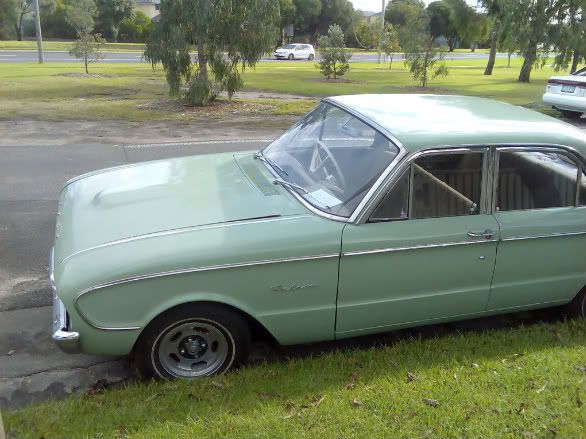 January 1961 XK deluxe sedan - orig 144 manual -now a 170 powerhouse manual ....
manual is 3 speed with non synchro first- gotta be stopped to get first gear
colour is H H H - Broadmeadows green top ,bottom and lower
after market period wheels and whitewalls - mmm
the very first production falcons in australia - approx sept to dec 1960 used imported american front bumper bars so had the american ( small) recess for the number plate - this has the australian production bumper bar to fit our longer number plates.- not much in it - approx 2" extra length in the recess
extremley rare to find the early american sized bumper bar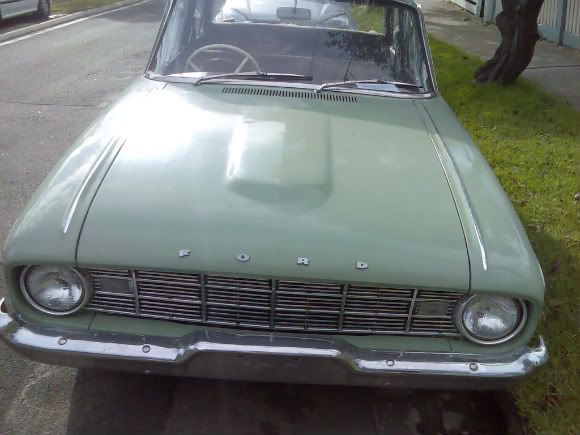 heres a photo - not mine - of an early Australian production american bumper bar:can see the number plate doesnt sit inside the recess
now back to my XK !
trim was orig 14 = medium brown cloth with light brown vinyl seats.- but has been upholstered in brown cloth.- non sweaty...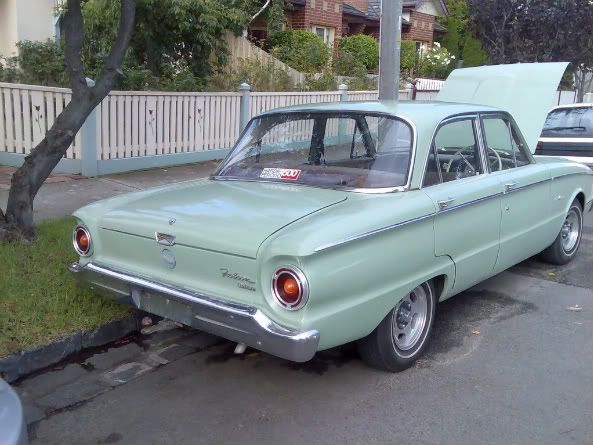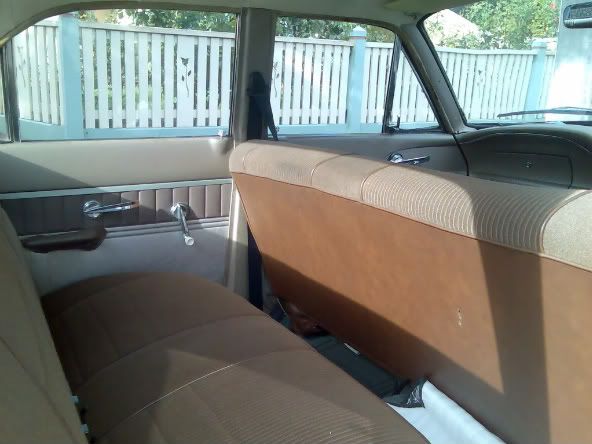 son checking it for size: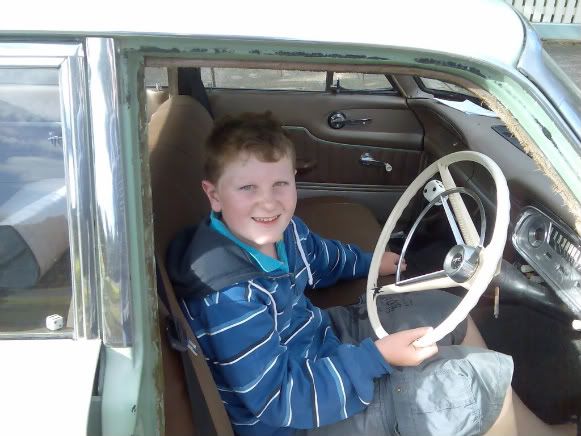 no radio - and dash not hacked about to fit a modern one - will fit a non working period one and a modern working one under the dash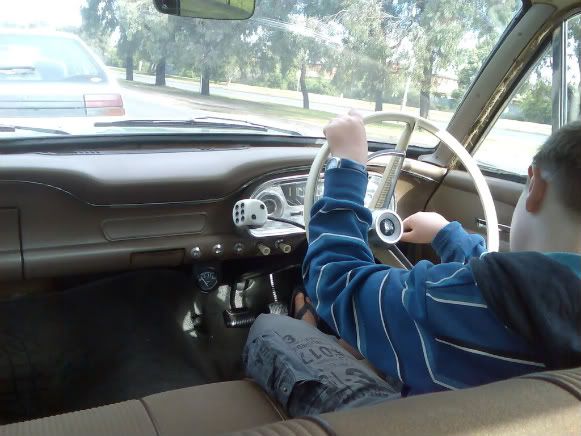 has one scratch / crease on left hand rear quarter- will see re fixing that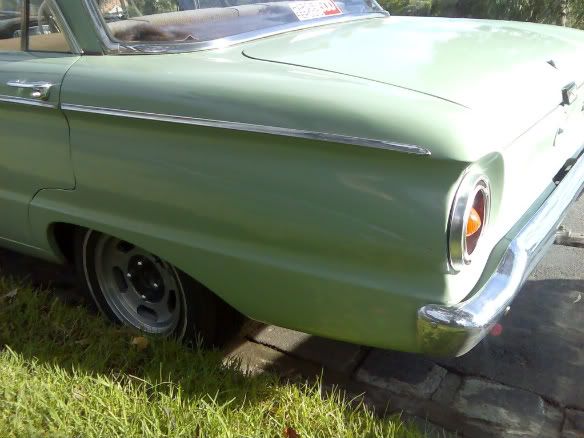 plan is to just put back the std steel wheels, change out dice gear knob !!! and drive it for the falcons 50th year .
i'm sure that air cleaner is worth 0.5 hp
notice we have the battery tray on the leftside (our passenger!)- another interesting story ( to me !)is the very first production falcons in australia - approx sept to dec 1960 used imported american inner guard (fender) pressings - so had the pressing(bulge) for the right hand side battery tray support (on the right hand inner guard ) - but didnt use it as the battery is on the left side of the car - so ford australia fabricated a support so the batttery tray could still be mounted on the leftside . mine is jan 1961 so has the correct australian inner guard pressings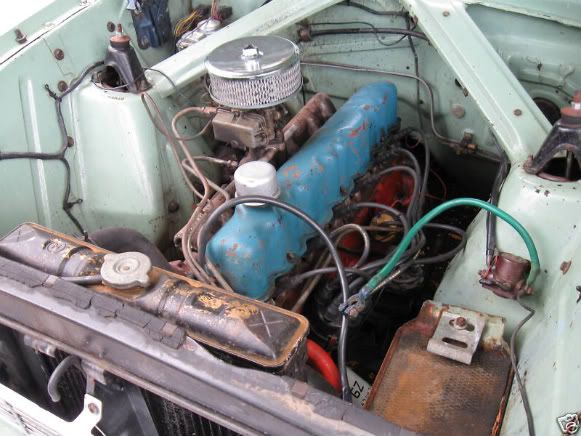 I tookit to the mechnics for a road worthy certificate- required to get it re registered here
got the car back from the road worthy (RWC)
-of course it failed
think the rwc checker was stickler for lots of things and he is my neighbour !
but mostly small things to fix:
ie horn not working (Knew that!)
brake lights
secure battery
remove towbar tounge!
adjust brakes
fuel line rubber pipe worn
plug holes in firewall
fix fuel line
washoff oil on diff and box and engine
rocker cover leak
then a few larger ones -
rear spring shackle rubbers
gearbox mounts+ engine mounts replace
front sway bar bushes
1 x balljoint
replace door rubbers - hmmmm
fix cracks in steering wheel- ie fine cracks in plastic....putty me thinks
then some weird ones :
paint over underbody surface rust
fit reversing lights-
and fit rear seatbelts
last two i asked him to check the regulations s with victorian roads authority - as i understood if it didnt have any when made it was ok.
Plus theres no provision on the manual box for reverse switch
but he didnt say anything about the xk having no windscreen washers, no side mirrors ...
ah anyways nothing too major and have been plugging away at getting them cleared
not wistanding get stuck in europe for an extra week due to the volvanic eruption in iceland..
missed out on the ford factory charity open day here in melbourne in april - and its the 50th anniversay this year of the ford falcon (XK) - bummer would have loved to take the XK up there
brett