Click Here -> Please Consider Making a PayPal Contribution to the FordSix Forum!
2019 Contributors:

NJwpod, 1strodeo, mightynorseman, maxtrux, 6d7coupe, broncr, Phase3, 68Flareside240, bmbm40, mustang6, WorldChampGramp, justintendo, BigBlue94, ags290, motorsickle1130, Rooster, ousooner919, ethanperry, rzcrisis, DoctorC, jamyers, Motorboy, fastpat, Silverback280, chad, drag-200stang, THE FRENCHTOWN FLYER, Jimmys61falcon, rjonah, Sooshi, Robert92867, Invectivus

PLEASE TEST ON
http://dev.fordsix.com
<<<***PLEASE READ*** New Site Update >>>
about 10 years ago I took my falcon apart for restoration. in the process i lost the ignition switch and bezel. I ordered new parts from carpenter to replace the old ones. my problem is when I put the ignition in the dash the bezel remains loose and can be pulled part way out of the dash. i cant find any other parts to install the switch such as a spacer from the jobber houses so I am assuming that I am missing the boat and am doing something wrong. can someone give me some idea as to how to assemble this properly or tell me what i am doing wrong. thanks
---
The Mustang has a cup shaped spacer behind the dash panel, between it and the actual switch mechanism. It is maybe an inch deep and there is a spring that holds the whole array tightly in place. Something like that? Mmmmm - junkyard.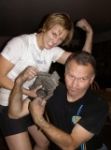 Livin' the dream. Dad n' daughter.
---
I saw a spacer for 1964/65 thats what gives me the idea that I am missing something but there is none listed for 60/63.
---
Who is online
Users browsing this forum: No registered users and 5 guests