Now we won't be talking about the engine in this car.. it has two many cylinders
I had to break this up into 3 posts because the forum limits me to 10 URLs per post
1963.5 Falcon Convertible Photobucket gallery (sadly these are the only pictures I have of it)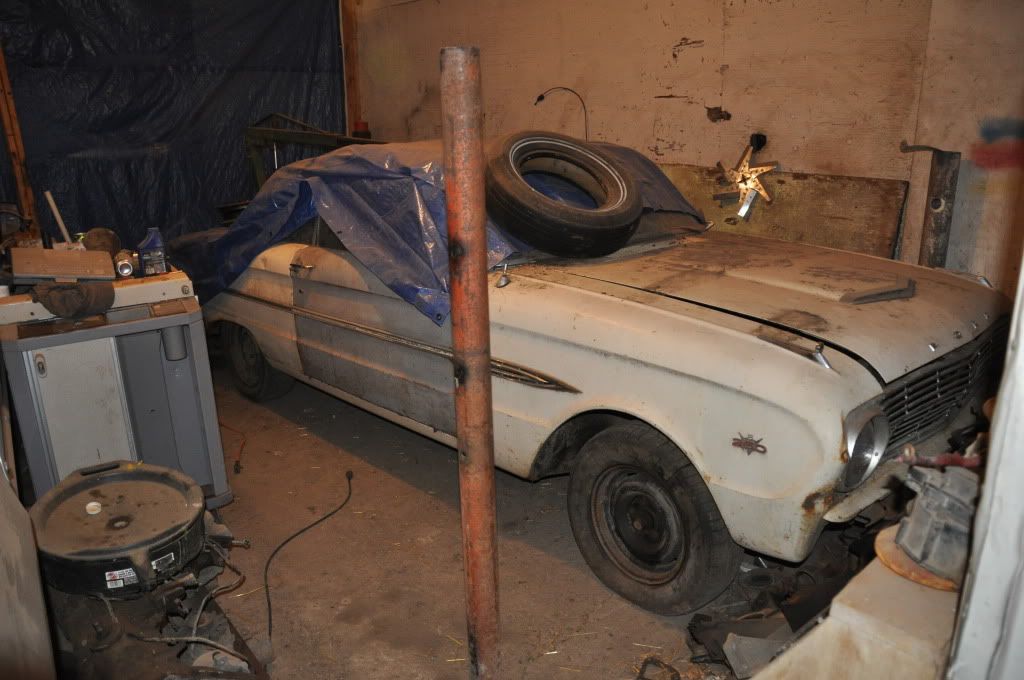 http://s689.photobucket.com/user/phl3gm ... onvertible
I want to use these rims that I picked up last year ($50 for the set, they are full aluminum and factory ford parts, none of that mid 70's rubberized stuff, they are 14's)
I'm not really a huge fan of convertibles, I watched a movie called 'room to live' in high school that shows what happens when a car rolls and the roof caves in, so buying a convertible car was never high on my list. (now an early bronco or Scout is still on my list, but they would get a full roll cage). This car will get a roll cage of some sort, but it has to match the car, so I'm not sure if 4pt/6pt, only time will tell. My neighbor has an air over hydraulic tubing bender and he used to make his own roll bars with back when he used to race Midwest modified ¼ dirt track. I will be installing 3pt seatbelts front and rear, maybe 5pt racing harness in the front if I go with a jungle gym roll bar setup…
My Dad and ex-step-brother had it running 2 years ago when they moved it from one building to another. The brakes are frozen, according to them, they changed the points, used a gas can for a fuel supply and after cleaning the points and pouring some gas down the carburetor, it fired up and drove. I have not confirmed this..
Assuming the engine is good, Dad says the 1-2 clutch fork/synchronization has something wrong with it, he said last time he drove it on the road he had to shift 1-3-4, completely skipping 2. He also says he has another 4spd sitting in the barn that could be swapped in. So also assuming that the transmission is in good shape.. I'd like to get it from his house to mine (about 80 miles each way). The only rust I know of is behind the driver seat. Maybe replace that driver fender if it isn't easily fixable. Blow the whole car apart and use the neighbors sand blaster with soda to remove all existing paint and surface rust. Build or buy some subframe connectors, weld them into place and then paint the entire car with something cheap like the Duplicolor Paint Shop system. And I am giving serious consideration to removing all body trim like the side spears and fender ornaments.
I think I need to build one of these first..
http://www.rollerhoop.com/
or something like this..
https://www.youtube.com/watch?v=li1nB2lFMQ8
https://www.youtube.com/watch?v=tZWhFmOJ6gQ
(kind of a long video, but the guy covers how he used it and how he built it.)
or in metal
http://www.angelfire.com/mo2/radrodder/ ... runit.html
Now I have been collecting parts for years, patience is my friend. So I have accumulated a lot inventory of used parts to pull from. I am already planning on selling some items to pay for this rebuild. You guys have already seen a few of my carburetors go down the road. I'll be putting more up for sale as time goes by.
After getting some sort of rotisserie I will get to work on the mechanicals.
Steering Upgrade
to get rid of the 'spear of death' 1pc steering shaft to steering box
1969 Torino Power steering box swap (16:1 ratio -- already have – we have 2 1969 GT Torino parts cars – both 302/C4 fastbacks – both rusted and/or wrecked )
1968 Mustang steering column (already have 1968 Mustang Parts car donation)
Rollerized idler arm (
http://opentrackerracingproducts.com/idlerarm/
)
I'm not sure if it is available, but I'm also going to look for the parts to do the Shelby Quick steer modification. It involves a longer pitman and idler arm.