Click Here -> Please Consider Making a PayPal Contribution to the FordSix Forum!
2019 Contributors:

NJwpod, 1strodeo, mightynorseman, maxtrux, 6d7coupe, broncr, Phase3, 68Flareside240, bmbm40, mustang6, WorldChampGramp, justintendo, BigBlue94, ags290, motorsickle1130, Rooster, ousooner919, ethanperry, rzcrisis, DoctorC, jamyers, Motorboy, fastpat, Silverback280, chad, drag-200stang, THE FRENCHTOWN FLYER, Jimmys61falcon, rjonah, Sooshi, Robert92867, Invectivus

PLEASE TEST ON
http://dev.fordsix.com
<<<***PLEASE READ*** New Site Update >>>
Registered User
Posts: 12
Joined: Thu Sep 23, 2010 10:25 pm
Hey everybody I have a1967 mustang I6 and was wondering how i can make it sound great with a deep rumble, non ricey sound. I keep looking but nobody has any sound clips of a 6 cylinder mustang. i know headers are available but im a 16 year old kid and dont have the money for headers. Thanks any help or sound clips with stock manifold would greatly be appreciated. Thanks again
---
I have heard flowmasters already and they sounded pretty good. At first I thought it was a mild V-8
---
Registered User
Posts: 12
Joined: Thu Sep 23, 2010 10:25 pm
would a hooker competition mufffler or flowtech after burner or magnaflows sound good exitng the sides i worry about the flowmaster drone being anoying
---
My wife has Flowmaster mufflers on her 5.0 and there is no drone with them and no cats.
---
FSP Moderator
Posts: 1610
Joined: Fri Jan 09, 2009 10:23 pm
Location: Chandler AZ
I have true dual magnaflows (14")

link in sig (sande)
65mustang-SOLD-200ci-t5-scarebird disks-vintage air ac-264/274 110 cam-mav 8inch 3.8 open-350cfm-CI headers
66 Bronco-SOLD-i6 170 - rust bucket never ran...
75 bronco-SOLD-v8 c4 dana 20 33's and disk brakes, locker front/rear.
---
I have *cough* Clifford *cough* headers going into 2 pipes with two higher quality glasspacks (don't remember the brand off of the top of my head). It sounds very full and very loud. People often ask me if I have a 428 in it!
My Dad has a Hooker header into 2 with 2 flowmaster turbo mufflers. Sounds more hollow (like the typical Ford V8 sound). The type of headers and which pipes each cylinder exits into will also affect the sound.
---
Registered User
Posts: 75
Joined: Wed Oct 27, 2004 3:35 am
Location: St. Louis
Contact:
Check out Youtube.com, there are a bunch of ford inline six sound clips.
Stl Greaser.
1962 Comet 170 2 speed all original(sold)
1963 Comet 250 T5 manual
2003 Subaru WRX 2.0 turbo
2001 Suzuki GSXR 750
1977 Kawasaki KZ 400 Cafe racer
---
Registered User
Posts: 408
Joined: Tue Jun 24, 2003 12:27 am
Location: South East PA
Contact:
I have the longer dual outlet header with dual exhaust and Borla ProXS mufflers. I have a link with my exhaust clips in my sig.
1965 Ford Mustang.
'68 200ci engine.
2bbl 5200 carb
Pertronix Electronic Ignition
Dual out header. Dual exhaust
Borla mufflers.
Exhaust Clips!
---
Here is a sound clip I made some time ago, not very good. At idle through 2000 rpms it sound really good above 2000 rpm it does sound a little ricey. I running a Classic Inlines duel out Header with Flowmaster 2 1/4" Series 40 Mufflers all the way to the Bumper. I need to make a new sound clip.
Bill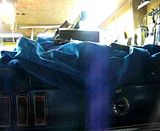 1969 Mustang 250ci, Bored .030 Over, Decked +.010, Balanced, Holley 600cfm, T-5, D.U.I, 8.5mm Wires, FSPP Header, 2 1/4" Exhaust, Flowmaster 40, 5 Leaf Springs, 3.80 8" Ford Trac-Lok, Auto -Meter Gauges, CSRP Frt.Disk Brakes, Holley Electric Fuel Pump, Custom 9qt Oil Pan w/ Windage Tray, ARP Rod, Main & Head Studs, Classic Inlines Aluminum Head, Chamber Size 56cc, 274(110*)Cam
---
Who is online
Users browsing this forum: No registered users and 2 guests