Click Here -> Please Consider Making a PayPal Contribution to the FordSix Forum!
2019 Contributors:

NJwpod, 1strodeo, mightynorseman, maxtrux, 6d7coupe, broncr, Phase3, 68Flareside240, bmbm40, mustang6, WorldChampGramp, justintendo, BigBlue94, ags290, motorsickle1130, Rooster, ousooner919, ethanperry, rzcrisis, DoctorC, jamyers, Motorboy, fastpat, Silverback280, chad, drag-200stang, THE FRENCHTOWN FLYER, Jimmys61falcon, rjonah, Sooshi, Robert92867, Invectivus

PLEASE TEST ON
http://dev.fordsix.com
<<<***PLEASE READ*** New Site Update >>>
Registered User
Posts: 54
Joined: Fri Jan 08, 2010 11:43 pm
Whats available for front seat belts, 3 point shoulder harness type for a 68 mustang. Thanks
---
check out national parts depot, they have a three point seat belt conversion for the early stangs.
64 falcon
66 mustang
05 grand marquis

my mind is aglow with whiriling
transient nodes of thought
careening through a cosmic vapor
of invention
---
Registered User
Posts: 1180
Joined: Tue Mar 25, 2008 7:12 am
Location: Grand Prairie, TX
I copied Mustang Geezer's install method (mounting high point at top of door post) using some 3-point "Autoloc" brand retractables bought off fleabay...my install is basically just like these illustrations from "Wesco"....
http://www.wescoperformance.com/i-3207- ... nstall.htm
EDIT: except used the angle bracket for the retractor mount at the rocker/floor and no special bracket needed for the buckle at the hump
The Autoloc kit came with most the basic hardware, but did not have the angle brackets for the floor...those can be pricey individually, but Seatbeltsplus.com sells them rather inexpensively (thanks to the tip from Vinman...he mounted his upper pulley/anchor at the roof line instead of at the top of the door post in his '67). Seatbeltsplus has entire kits as does Summit IIRC...
http://www.seatbeltsplus.com/category/S ... sions.html
The angle brackets are made by 'Beam'
Very heavy gauge and cadmium coated, unfortunately the rest of the hardware in the bracket kit was not cadmium coated, but reg zinc...Picked up some heavy gauge cadmium fender washers from Napa and grade 8 hardware from the local ACE to finish it off. Couple holes in the floor for the angle brackets and a couple holes in the top of the door post finished it off (re-used both original mounting points...one on rocker for fixed forward point of retractable, one on hump for the buckle). Including belt kits and hardware the whole thing cost less than $100 (belts were crazy cheap via fleabay...tradeshow stock). These work well with my late model seat. Good luck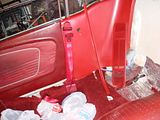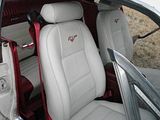 -Robert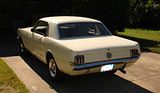 66 Mustang 200+30, 67 BH, 89 4cyl T-5, 71 Comet 4 lug 8" 3:1rear, 85 T-Bird v6 DS, 10 Mallory Unilite Hyfire VI-A, 08 Vaporizer 1bbl, 68 Cougar 2" exhuast,65 pipe, 74 Mav man disc m/c & Scarebird(87 Stanza rotors 89 Cavalier calipers), 73 Datsun 240z Appliance Wire Mags, 03 Mustang Leather seats
All in one car! Johnny Cash would be proud...I got it
One Piece at a Time
---
I got ones like that. The top anchor point is at the upper corner of the door frame, just like these. They have ones that mount the upper anchor to the rear deck lid or firewall with a loooooooong belt through the back seat.

Best price I found a few years ago was Virginia Mustang. They were half of what Classic Car Stereo was asking and it was the same belt setup. I believe CCS was the company that first came out with them.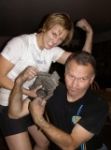 Livin' the dream. Dad n' daughter.
---
Who is online
Users browsing this forum: No registered users and 2 guests