Some of you have been around long enough to remember when 6 years ago I had to blow apart my front suspension for some structural repair.
Mustang Upgrades this week (Month)
The car itself had the suspension redone and the exterior was painted in Dec 2000 so its showing some age. The body isn't getting repainted any time soon, I'll continue to touch it up as needed.
What it does need is an overhaul of the suspension system, unknown miles total since rebuild. I can tell you that my wife put on a lot of miles last summer. 25 miles each way to work, 5 days a week for work, plus gym on Saturday she drove it basically from late March - first week in November. Good grief I hope my math is wrong.. that means 7 months, 4 weeks per month, at least 300 miles per week.. 12600. (which means I didn't change the oil nearly often enough)
Truthfully I never drive the car, I never see the miles rack up. The only reason I even changed the oil was because I drove it one day and when it was at highway speed the oil pressure was below the 'low' mark on the gauge. Let it forever be known that I am a bad car owner
(I need a facepalm emoticon, I never did the math on how much she drove until I started typing this)
So back on topic..
The car currently has 4 wheel NON-power drum brakes, which were rebuilt in (you guessed it) 2000
Stock style export brace, no Monte Carlo
Saggy rear leaf springs
Idler Arm that needs to be replaced -- steering box isn't that tight either...
I'll need to do a lot of this rather quickly so if you have any information that you want to know about any of these conversions, ask early and ask often. I won't actually be able to drive the car with the motor swaps in it because hopefully I'll have the suspension blown apart, but I am willing to measure anything or make/mock anything you like while its apart. I have a 'brief' 3 month window in which to get this all done. When March rolls around it has to be going back together for Summer driving or else I may as well find a new home
The plan Broken down in the 3 main areas..
Engine/Transmission
1. pull current motor (its v-shaped and displaces 289 cubes)
2. Install a 1975 250 (i6)
2a. With stock 170/200 mounts (taking measurements and noting where modifications can be made)
2b. With stock 1969 Mustang 250 (i6) motor mounts (more measuring)
2c. With the
Custom i6 Motor Mounts
that I created a while back.
3. Install 1970 170 i6 using the
i6 to SBF adapter
that I created.
3a. First with stock i6 frame and motor mounts
3b. Replace those with the
Custom i6 Motor Mounts
that I created.
4. Install a 240 or 300, design and build custom conversion motor mounts.
5. Design and at least mock up a couple intake/exhaust combinations (eventually for my '67 Mustang Coupe)
5a. With a
1pc int/exh flange
I'll make a MPFI/Turbo setup
5b. With a 2pc setup I'll make a standard 4bbl/header setup.
6. Reinstall v-shaped motor with custom SBF motor mounts (sorry guys, the car is the way my wife wants it)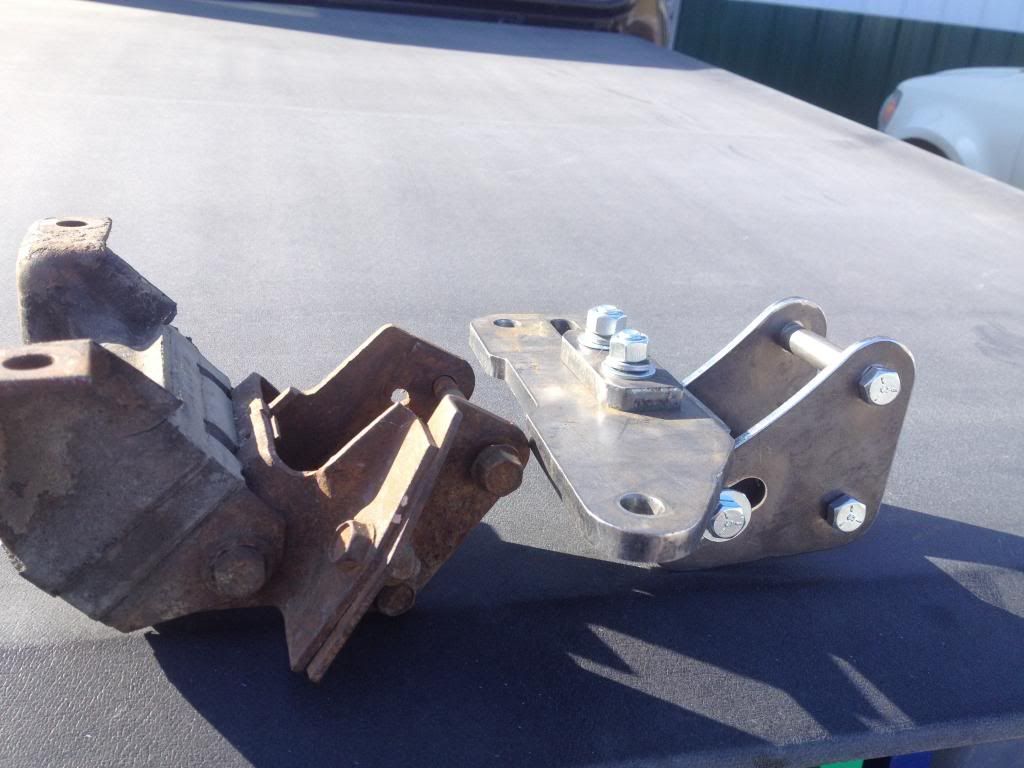 backed by an AOD also on a custom Crossmember (should work for a T5 or AOD.. I'll find out soon enough)
A teaser shot... these parts are already cut, just waiting to have the edges ground smooth, sanded and painted..
LCA tubular strut plates (2 styles -- standard/coil over)
T5/AOD crossmember
Tubular export/monte carlo plates
Custom i6 Motor mounts