I was fortunate enough to hear about a used 4 barrel intake from a buddy, and went down to get it today. It turned out to be a DP. I would have ordered a "C" series if I was buying new, but feel fortunate to have found one at all!
I know that in proper use with a 4 barrel carb, the primaries run through the smaller portion of the intake runner, and the secondaries flow into the larger part when you "flush the toilet". Overall, I like the design, and actually have 3 of these intakes (for small blocks) hanging on my shop wall, as well as one on my 64 Falcon with a V8.
That said, I still would like to run an Autolite 2 barrel from a 302 on my 300 six, so I experimented a little with a junk carb I had sitting around. I could make a plate to place the 2 barrel over the intake openings for either the primary side, or the secondary side. Two of the carb mounting holes line up perfectly, but the carb has to face opposite directions for each choice of mounting. Here is an example pic, using a 2 barrel factory spacer I had: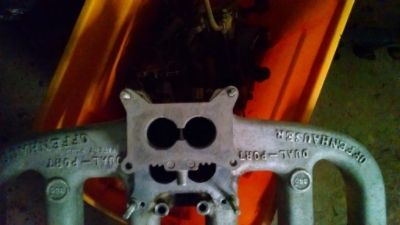 This is the orientation I think would perform best, as it is dumping into the larger, or "secondary" runners. I would need to move the throttle mounting ball to the bottom of the carburetor linkage to get the proper direction of travel, and the fuel line would be sort of clumsy, but otherwise it seems pretty straightforward. Here is how it would sit: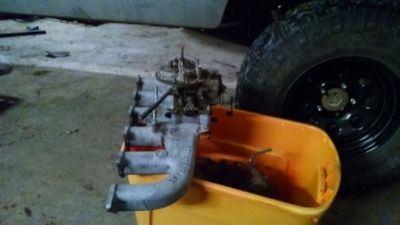 My main question is, will using the runners for the secondaries alone flow enough to make this a worthwhile project? Or will it be too restricted? I can't imagine that it wouldn't outflow the stock "log" manifold, but I have been wrong before.
I could also just use an open plenum spacer and build a plate to center the 2 barrel above the intake, but I am worried that it would be a turbulent mess, and not run well at all.
I am looking forward to the input and experience you guys can share with me!