Well, the Monster is legit. He is a bonafide street car.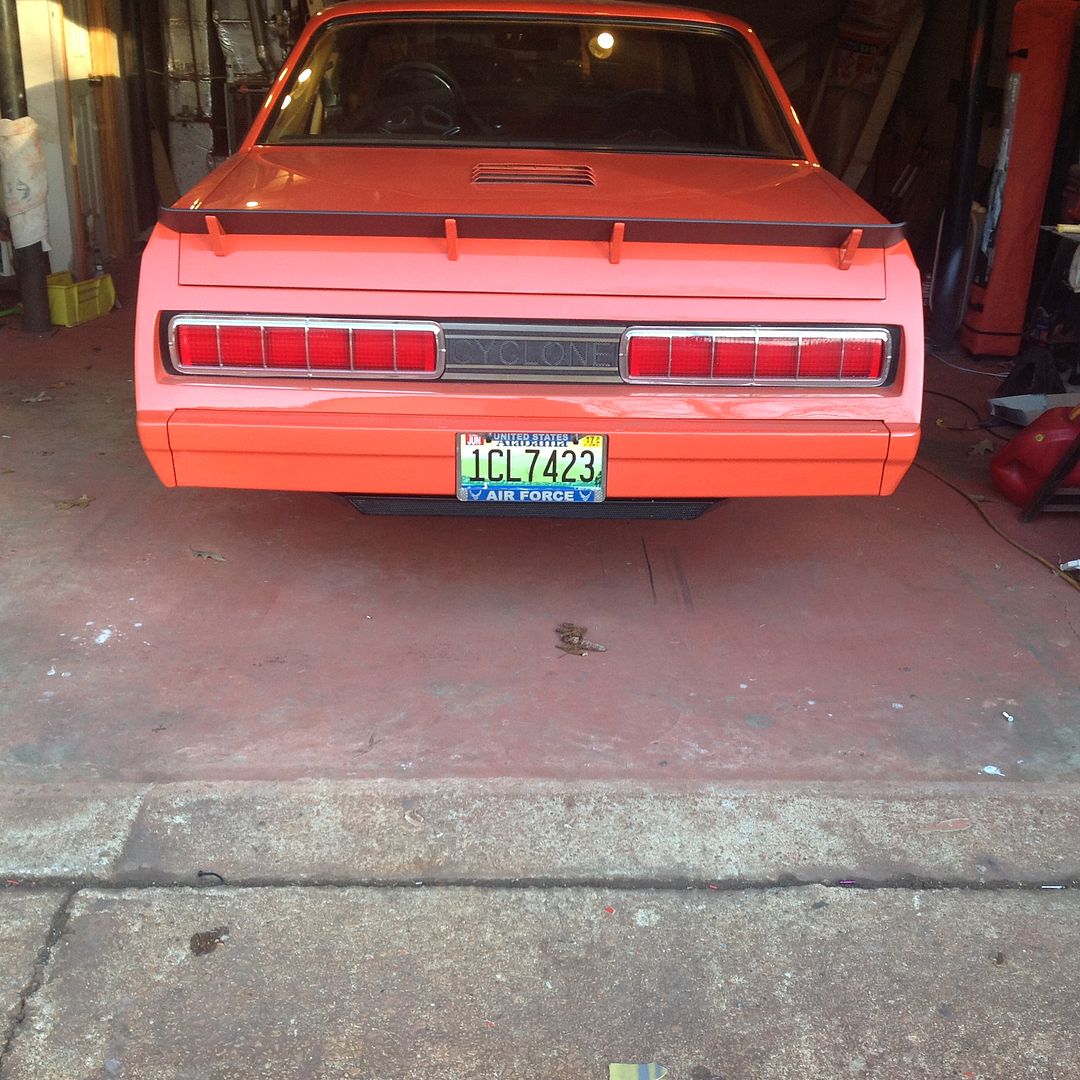 I decided against the personalized plate. The reason for that was simple. I did not want to have to explain a bazillion times what it meant when only the twelve of us know why it's called GMONSTR.
Other contributing factors were that the state of Alabama decided to charge me for all three years that the car has been in my possession despite the fact that it has been non-running.
So,...I paid $171.00 to license the Monster today,..when I was expecting 70.
I intend to modify the coverage I put on the Monster to include a stated value policy, But for the sake of what I wanted to accomplish today, all I needed was proof of ins.
It did drive the distance. There and back was about a 20 mile round trip. I'm starting to become concerned that what I think are 3.55's are way deeper than that. It seem that the car runs at 2400-2600 RPM at what I think is 70 MPH. I still need to properly calibrate the speedo to be sure,..but it's like the engine is spinning way to high to be in 4th gear to be a 3.55.
I'll have to look into that more.
After I got it back I removed the Autolite 65 plugs (which looked perfect,..IDK why I decided to go colder0 But I installed a set of 64's that I have had since day 1. I gapped them to .032, and then took the car for a drive.
This thing detonates so bad when you try to put your foot on the floor that had these been hyperU craptic pistons, they'd be broken by now. I'm only talkin about 1 second of that, but there is clearly something wrong.
When I roll into the throttle, as long as I keep it at about 1/2 throttle, it pings. Stand on it, and it freakin rattles.
Here's my new Auto- Hypochondriacism.
A long time ago I was building a Clevor that I intended to put nitrous on.I planned to use a open chamber 2v head. After reading and talkin to people, I learned that the lack of a "quench area" would cause the engine to detonate very easily.
Consequently,..I bailed on the Clevor thing, and just went w/ a conventional Windsor head instead. I never got to see for myself whether or not that head was gonna cause rampant detonation.
This is a pic of that chamber.
And this is the closed chamber version of that head. The flat area is necessary to promote a clean burn, as it forces more complete combustion as a result a tighter packed mixture.
Now,......this is the Monster's camber:
I'm not seeing no quench.
I knew this in the back of my head, but gave it little consideration, hoping that it wouldn't be an issue. Now it may be that this is why the thing is rattling.
Then again,..It could just be tune related. Time will tell I guess.
If that turns out to be the case,..it'll be the death nail for any boost north of probably 5 P.S.I. as this all ties back to lack of quench being intolerant of high cylinder pressure,..and even that seems to bring on the rattle.
This car is running megasquirt, it is injected, and has a 66mm Turbo on it. The tune right now puts it in the 11:1 AFR, and 18 degrees timing range when in boost. Surely I can't be the only guy in the world trying to turbocharge this engine w/ this head on it?
If I can't "tune out" the detonation because of the open chamber, what kind of power can I expect from this thing Dean? (Yeah,...I know you'll be looking in,...MOF, I'm expecting that you will);)