Click Here -> Please Consider Making a PayPal Contribution to the FordSix Forum!
2019 Contributors:

NJwpod, 1strodeo, mightynorseman, maxtrux, 6d7coupe, broncr, Phase3, 68Flareside240, bmbm40,
mustang6, WorldChampGramp, justintendo, BigBlue94, ags290, motorsickle1130, Rooster, ousooner919, ethanperry
rzcrisis, DoctorC, jamyers, Motorboy, fastpat, Silverback280, chad
<<< New Site Update >>>
---
Hmm, Just popped down to the guys who are installing my new motor into the boat and compared the photo's
I don't think this carb will fit.. the orientation is all wrong.
I am trying to put as many new parts on as possible.. so far I have a new fuel pump, new distributor ( shaft and everything), new steel water pump etc, but I would really like to replace the carb or maybe send it away to be rebuilt and made as good as new.
Any ideas guys? ( non cross flow XY 250 motor)
Thanks
---
Registered User
Posts: 235
Joined: Thu Jan 14, 2010 9:50 am
Location: Finger TN
Just a reminder - Classic Inlines is not presently a functional business since the demise of the owner ; search on here for further details .
First car - 1961 Falcon Deluxe 4door , had 1968-73
Present - 1963
1/2
Falcon 4door base model , since 2009 ,
frequent driver , work in progress
Yes I like 4doors
Lifetime member # 117 NSRA
Former A.S.E. certified mechanic
FCA member # 13677
Admin FFOG
---
Oh sh*t..that's terrible news.
My condolences to his friends and family. He has touched many people all over the world.
Would be nice if somehow his work could live on and continue , but I imagine it was more passion than profit that drove him.
Thank you for the heads up
Rob
---
Roath,
After Mike's death, his family ask us to help them at least sell off his inventory. So we have those carbs on hand if you want one...or three!
Please email us at:
nocancr@msn.com
...to work out the details.
Please don't use the ClassicInlines website for ordering parts. Just use it for reference and part numbers. Email me the PN and/or descriptions and hopefully we'll have the items.
Thanks!
Will
'86 Mustang, Turbocharged, Best ET: 10.70@132.
'69 Mustang Sportsroof, 351w, auto
'63 Falcon, Turbocharged 250, C4, 9", Best ET: 10.64@127mph 11/21/14
---
VIP Member
Posts: 6923
Joined: Sat Nov 09, 2002 10:40 am
Location: PO Box 7072 Dunedin 9011,South Island, NEW ZEALAND
Contact:
They fit Roath. Its a great carb, you should buy it.
Does10s
is da man.
Any carb fits. The key is the US heads have a thin alloy adaptor that spins the diagonal stock log heads carb spacing around on all of them.Thats how the USA did it. The Aussie Stromberg has a Holden or Ford base for pre cross flows, then with the cross flow, the Holden and Ford ones had the same pattern.
I have the first small log from 1960-1965. 1.3" hole. Fitted my C1 170 head
The ARC9 log, which is what yours is basically.1-1/2" hole. Fits on my blue rocker cover 1972 Ford Falcon XY 3.3 lit
re
engine
The E0 log with bigger bolt pattern and 1-3/4" hole.Fits my Mustang 3.3
I make a 12 mm adaptor to swap it over. Its based on the Holley 1946 adaptor I made in 2012. We make it to fit the Carter YFA too.
Contact me at
dean@xecltd.info
, and I'll send you one.
Australia Stromberg 1-bbl carbs were all direct mount. Bendix Corp in Sydney made them so thy didn't need an adaptor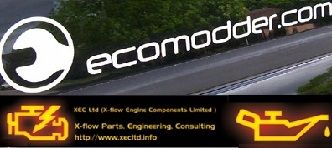 XEC Ltd ICBE's Inter Continental Ballistic Engines-FAZER 6

Bi
(M112 & EEC5) or
FAZER 6

Ti
(GT3582 & EEC5) 425 HP 4.1L/250 I-6
FAZER 6

V0
3x2-BBL Holley 188 HP 3.3L/200 I-6 or 235 HP 4.1L/250 I-6
X-Flow Engine Components Ltd
http://www.xecltd.info/?rd=10
---
Who is online
Users browsing this forum: No registered users and 3 guests