C. Adams
North Texas
62 Comet 2dr 144/200
---
Sweet! Very nice and clean
James - '62 Ranchero (200cid), '71 LeSabre (464cid)

The ONLY safety device we need is a 6" sharpened steel spike bolted to the center of the steering wheel of EVERY vehicle.
Emergency Rooms and Funeral Homes will be busy for a week or so, then I predict a dramatic drop in vehicle accidents.
---
That is a great car!
66 Bronco-1970 250, NV3550, DSII, 4 turn ps, uncut, 1" bl, 2.5" sl, front disc, twin stick D 20, 30 x 9.50
NEXT- direct mount 1.08 on D8 head, power brakes, rear limited slip, 3G, electric fan, electric upgrades, custom curved DSII, header, 31" tires
New guy? Get this>
https://web.archive.org/web/20170521033904/http://www.falcon6handbook.com/
---
Global Moderator
Posts: 7992
Joined: Sun Jan 03, 2010 4:46 pm
Location: Flagstaff, Az. 86005 near the old Route 66
that's a great looking little Merc!
A bad day Drag Racing is still better than a good day at work!
I am still hunting for a project car to build but with my current low budget it's not looking so good. My Ex- Fleet of Sixes these are all long gone!
1954 Customline 223 3 speed with O/D, 1963 Fairlane project drag car with BB6, 1977 Maverick 250 with C4, 1994 F-150 a 300 with 5 speed.
---
Registered User
Posts: 883
Joined: Sun Oct 19, 2003 6:10 pm
Location: Michigan
bubba22349 wrote::beer: that's a great looking little Merc!
X 2
66 Mustang Coupe
200 turbo w/lenco 4-spd
stock adj. rockers, stock timing set, ARP studs
best 1/4 mile ET 9.85/best mph 139 on 8 lbs progressing to 15 lbs boost
Went 9's when 10's was fast.
---
FSP Moderator
Posts: 1823
Joined: Fri Nov 08, 2002 6:45 pm
Location: Mid Hudson Valley - \H/
that's a great looking little Merc!
Nice Comet ! ...
1962 Comet - the first year as a
MERCURY
COMET .
Ford
Comet was given to Merc/Linc/Edsel dealerships in '60 to replace the EDSEL line'.
have fun
... my '61 FORD COMET: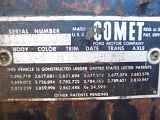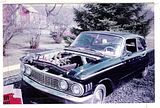 .
"Take time to stop and smell... The roadkill..."
---
Registered User
Posts: 16
Joined: Wed Apr 12, 2017 11:07 pm
Sweet Car!!!
---
Who is online
Users browsing this forum: No registered users and 1 guest