As I've stated before, I'm a hoarder who has NO PLANS to quit any time soon.
I've got a nice daily driver, and I am working on my next (hopeful) daily driver
I've been lazily shopping for an old 2wd truck. Basic transportation, exterior sheet metal is a plus, no huge holes in the box, and enough metal in the cab floor to keep my feet off the road. I'll repair or upgrade all mechanical systems (steering/suspension/brakes/heater) and I will be upgrading the suspension to 3/4t specs if I end up with a 1/2t, I want to be able to pull whatever I want.
To power this project:
I've got an offenhauser 360 intake and a set of Hooker headers for a 300
and a ZF5speed out of a 1992 F250 (had a 4.9L), Dad pulled it all during the 'Cash for Clunkers' debacle, and shoved it into the hatch of a Fiesta for safe keeping.
Man this thing is HUGE when you are used to looking at 3.03/SROD/T10's...
Last weekend I ended up spending 2 days back on the farm, which is a rare occurrence; so I did some shopping, my family also jokingly calls this sort of trip "taking inventory".
Day 1 was spent in a tiny town in the middle of nowhere ND, an awesome little town with ZERO AT&T reception.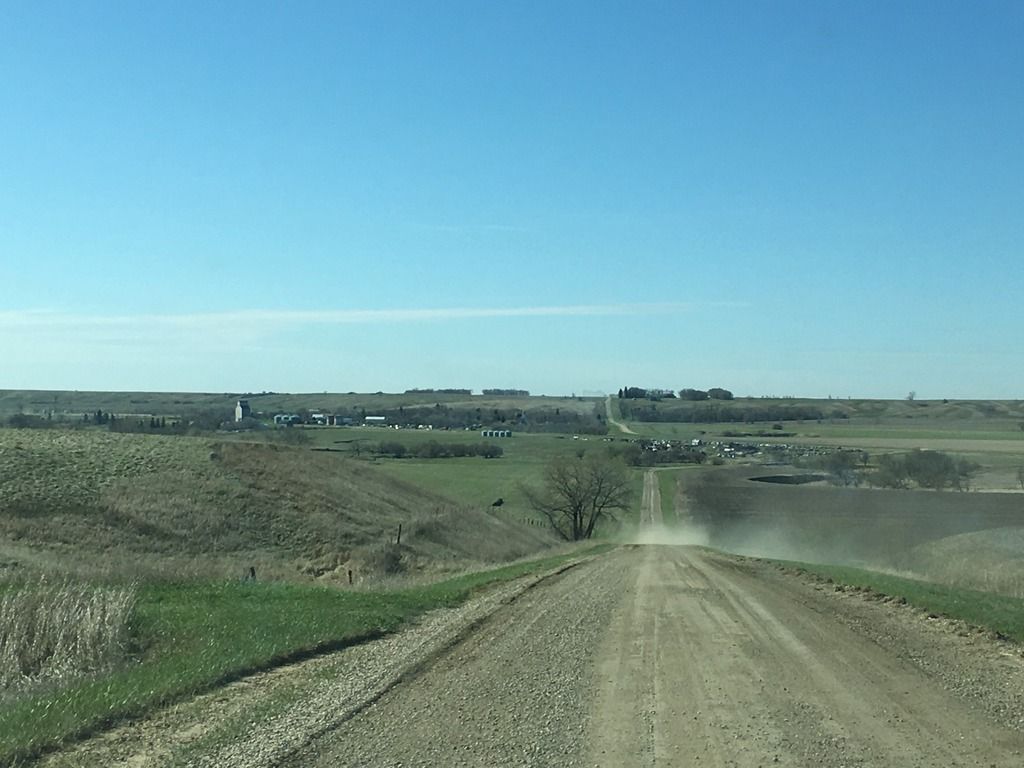 I forgot to actually check the years on these, so most are my best guess..
The first truck I looked at was a bonafide Camper Special with the tire holder built into the side of the box.
1975 F250 2wd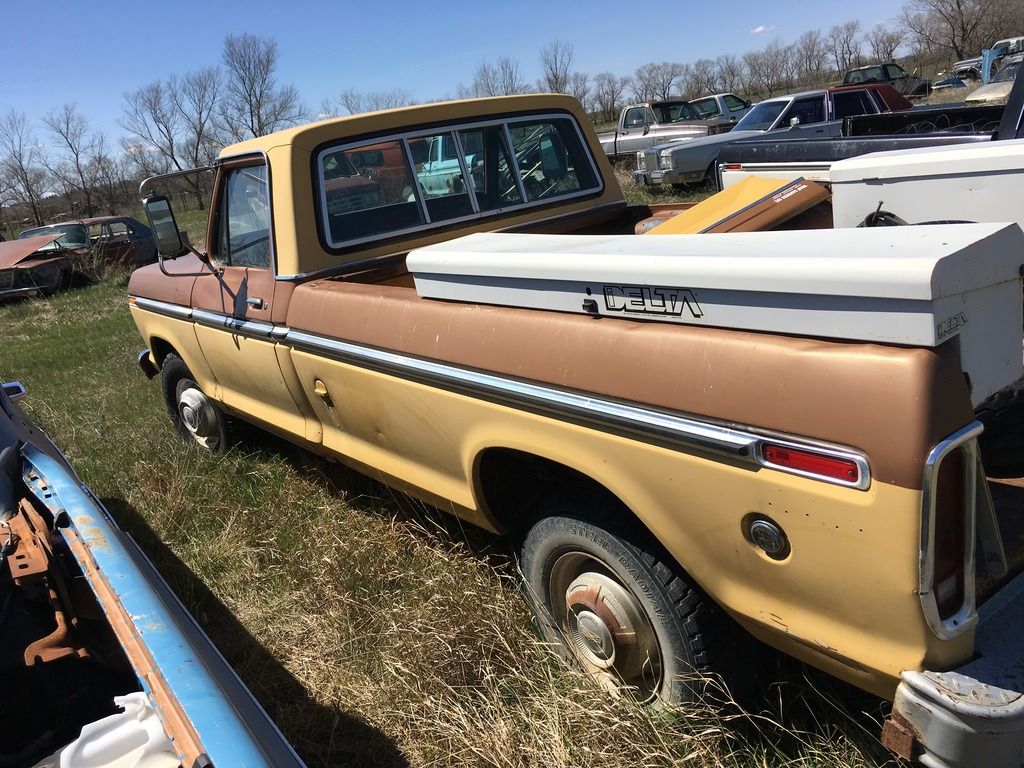 Stupidly, I glazed past this one
1975/76 F150 SuperCab 4wd (I didn't realize it was 1/2t until I was reviewing my pictures later)
I would like to find out if the seller is interesting in parting with this one,
1953? F100 short/step side 2wd
1966 F250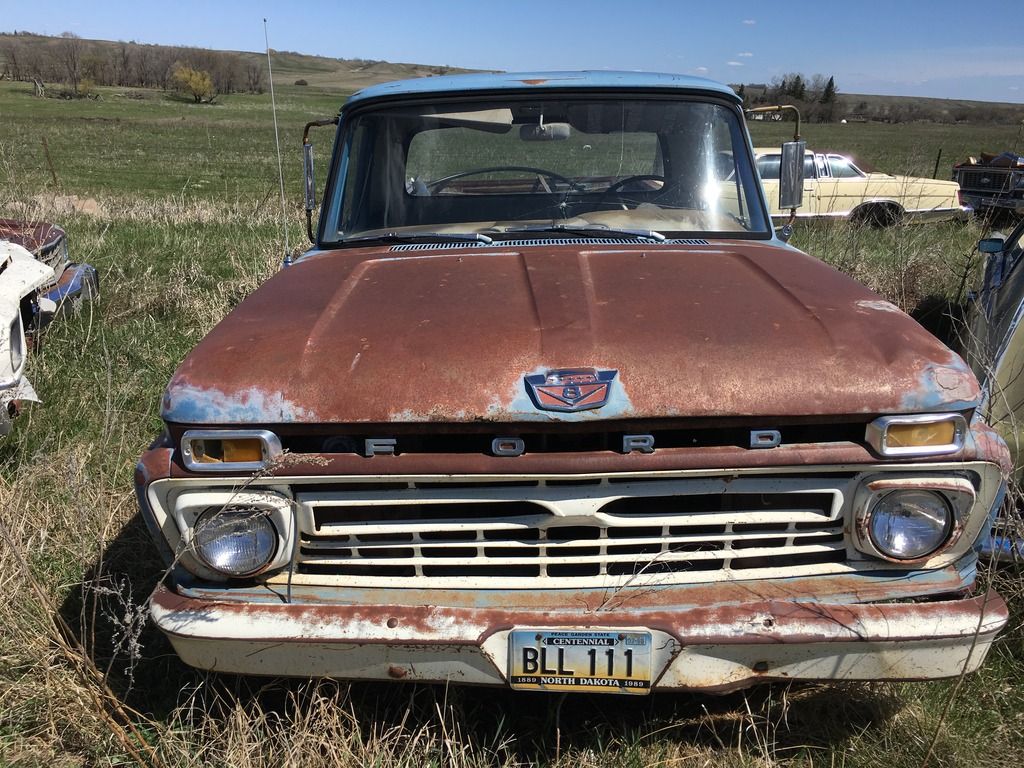 Another 1966 F-?? (I forgot to look at badges or tires)
The crew cab is probably too far gone
And I already have a 1975 F250 crew cab/short bed on a 1978 crew cab 4wd frame.
1973-1977 F250 2wd
If I were to pick one of these trucks today, it would probably be this one though, It reminds me a lot of the 1970 F100 I drove in highschool. The one I drove had a 240/3OTT, this one has a manual, unsure of motor (don't care).
1971 F100 2wd long bed
Another 1970/71 F150 long bed
Its not bad, but on the passenger side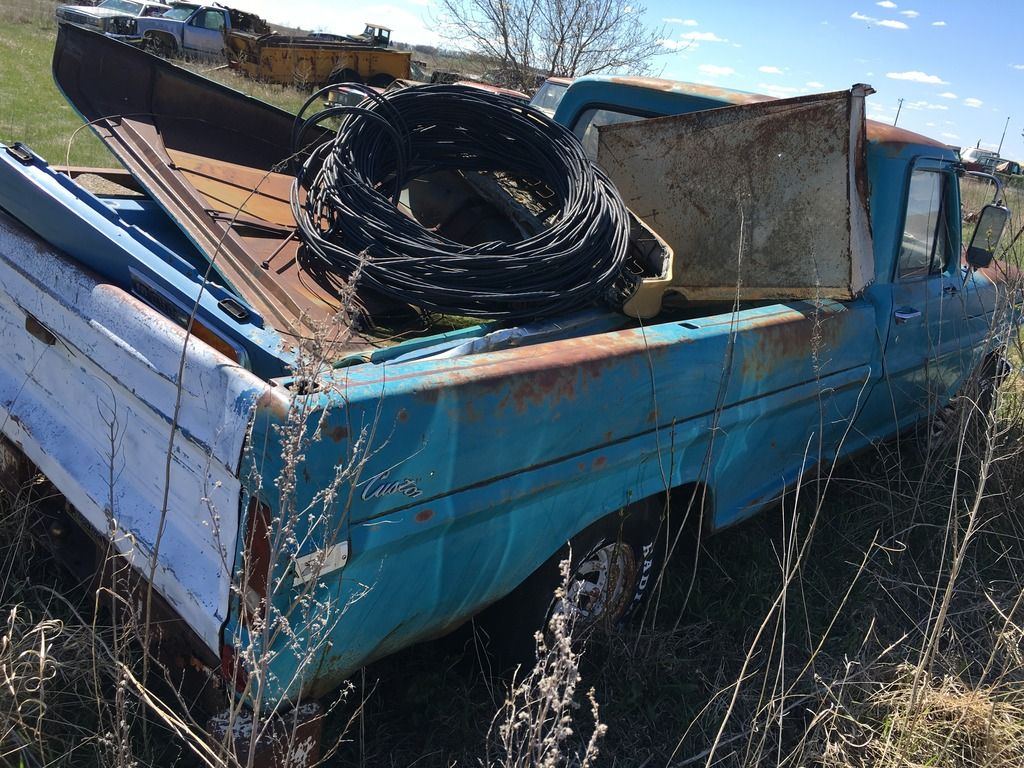 It does have this crinkled part.
Not a contender for rebuild, but this truck does have factory AC, which I would like to add to my '75 F250 Crew Cab
This
1965 F100
is holding up pretty well.
1975-79 SuperCab just sitting there..
Not for sale.
The guy who owns this particular yard O'fords also has this old ford crew cab, which is now powered by a 12v cummins.
This guy also had a few old Ford cars
1960/61 Falcons
This next one, I need to find out his asking price.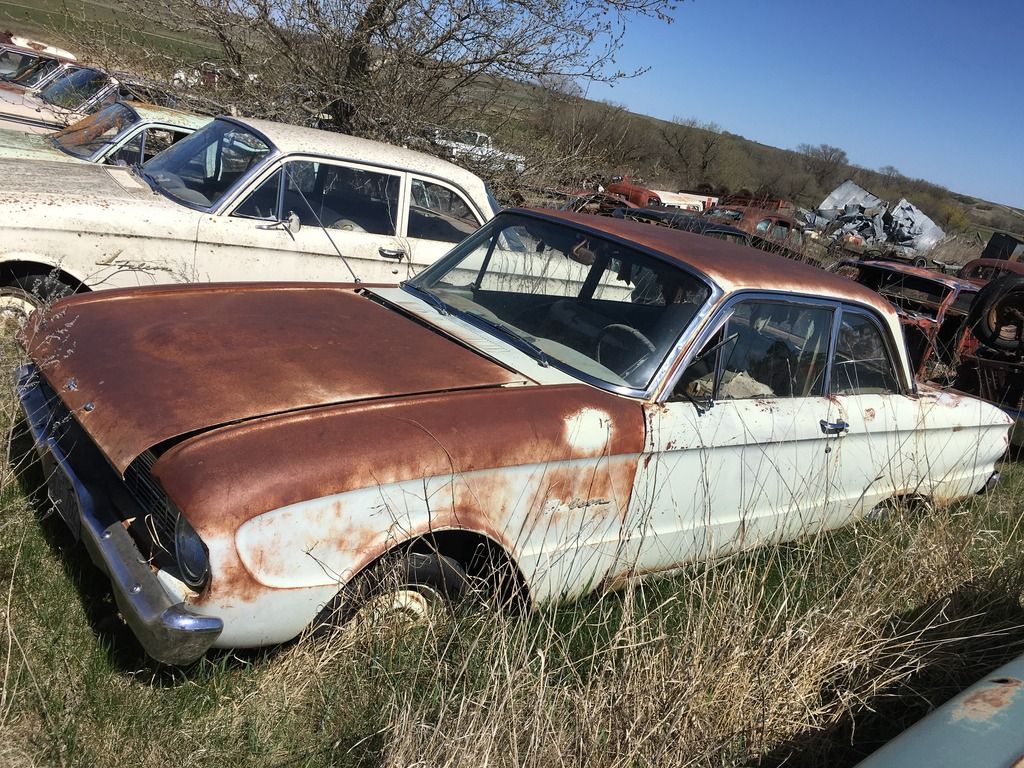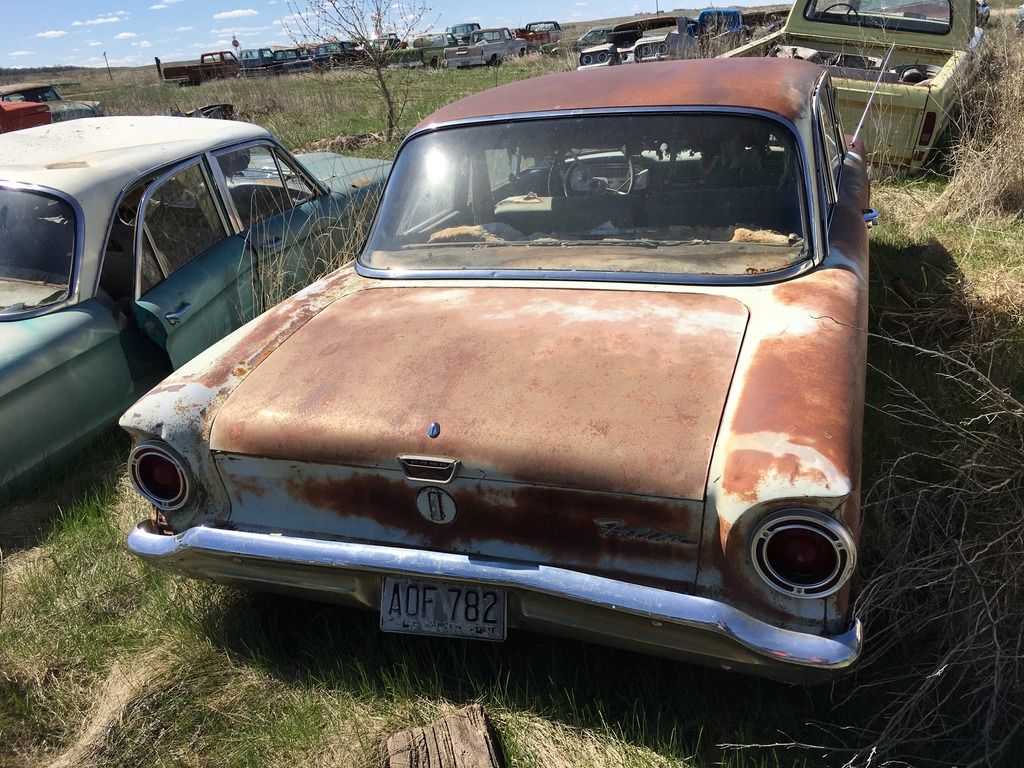 This one was OK, but the moss, and the hole in the floor made it a little less desirable.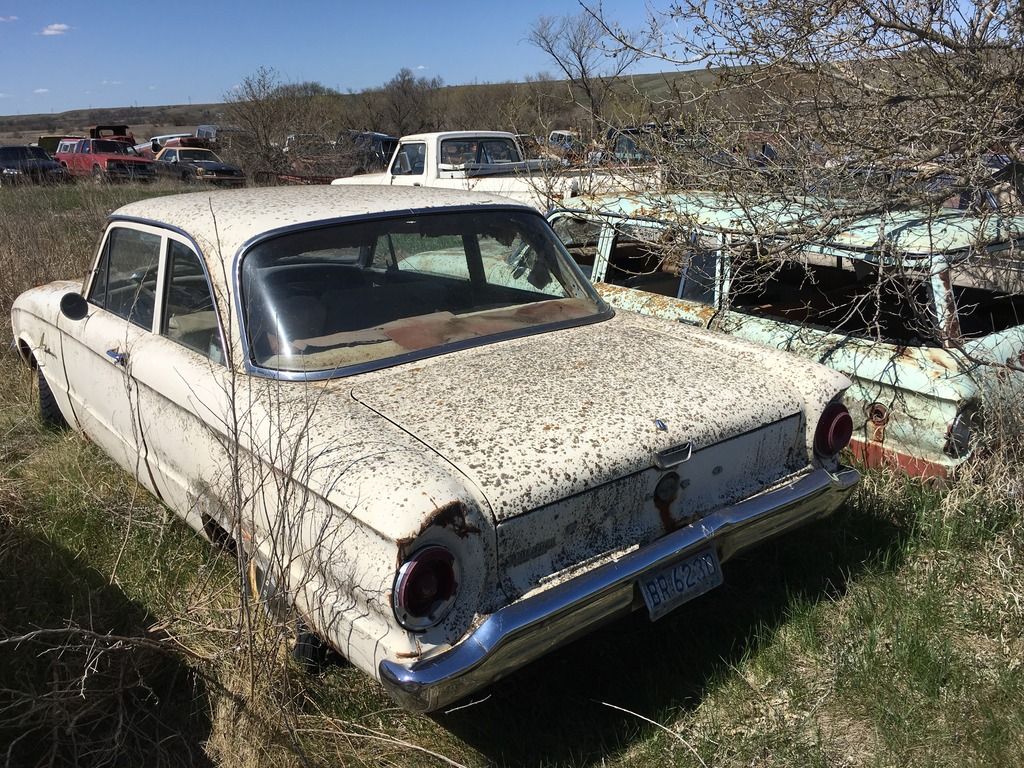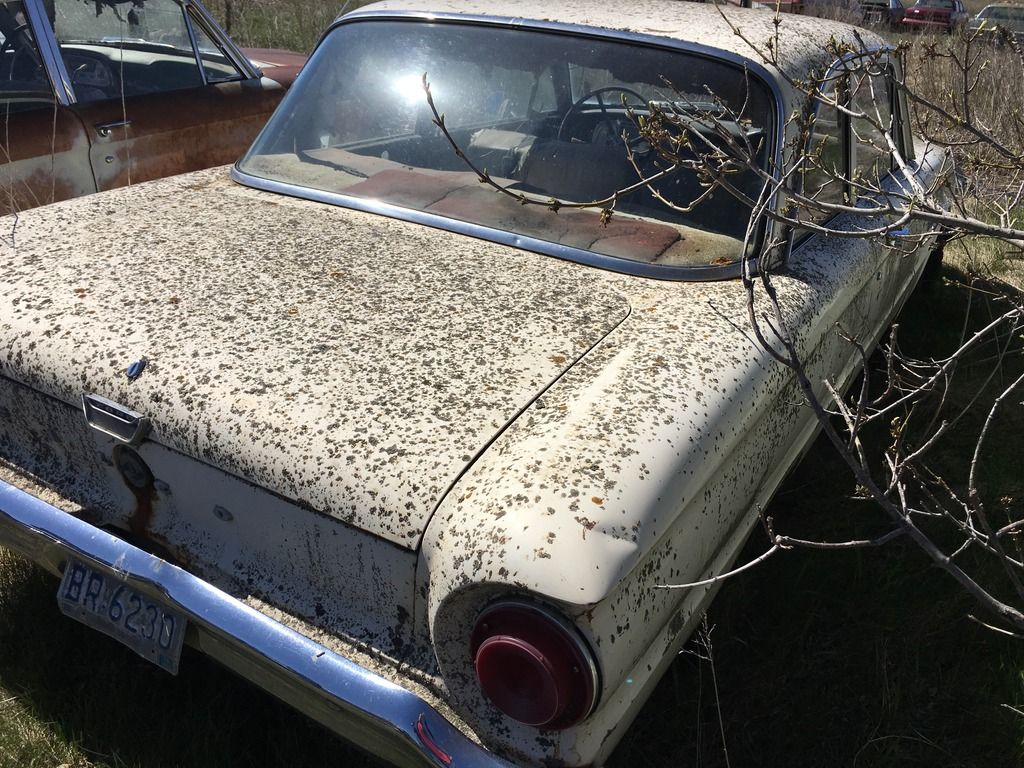 Daylight through the floorboard...
Aside from the moss and a few dents in the tail light area, the outside looked pretty decent.
This poor station wagon has seen better days.
And that ends Day 1.
I did not take pictures of ALL the cars and trucks, only the ones I'd actually be interested in owning.
The guy who owns these cars gave me permission to go shopping and said that most if not all are for sale.
However upon returning with a phone full of pictures to find out if they were for sale and how much.. he was not anywhere to be found.
I stopped by his work and they would not give me his personal cellphone number, only his work number and a recommended time/day to call.