I recently bought a "real" aircompressor.
My old Campbell Hausefeld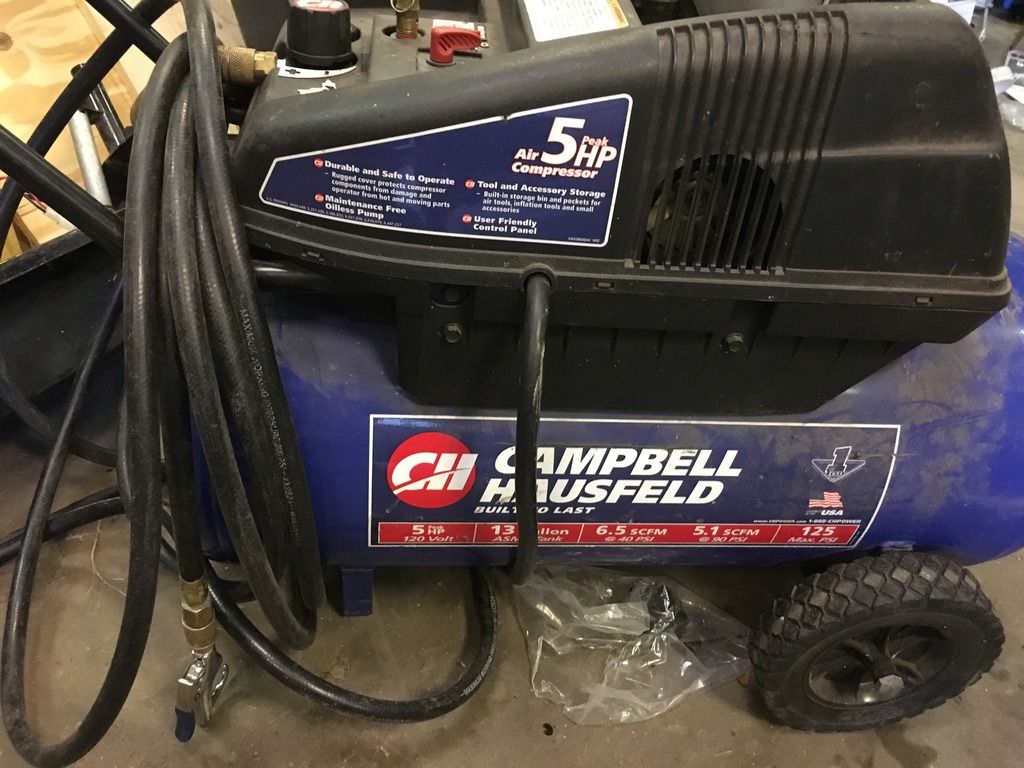 MAGNA FORCE 60 GAL. VERTICAL AIR COMPRESSOR
It worked good for years for airing up tires and very, very minimal tool operation.
But it was worthless for anything that consumed large quantities of air.
And it seemed like it had to run forever to get up to max pressure (shutoff) and as soon as I started using it, I'd be listening to it run again.
Earlier this year, I bought, but haven't built a Harbor Freight 40lb sandblast cabinet, and I plan on buying a 100lb compressed tank style for big jobs like engine bays or frames.
I bought a Chinese hand held plasma from my neighbor, one of the reasons I think I had problems with it was an inconsistent air supply.
There was a bit of a learning curve..
Eventually I'm going to try my hand at painting. All these require air, lots of clean, dry air.
All of my previous air compressors have either been the "all in one" type where you take it out of the box, screw in the air hose quick connector and start using it.
The one I bought went on sale, $50 off, which I promptly paid back to them to extend the warranty from 2yrs to 4yrs.
I've been doing my best to follow the instructions
Single Stage, Belt Drive, Electric Air Compressors Operator Manual
I luckily have a professional electrician for a neighbor so the wiring is done.
This is the first time I've ever seen blade connectors for 230v connection.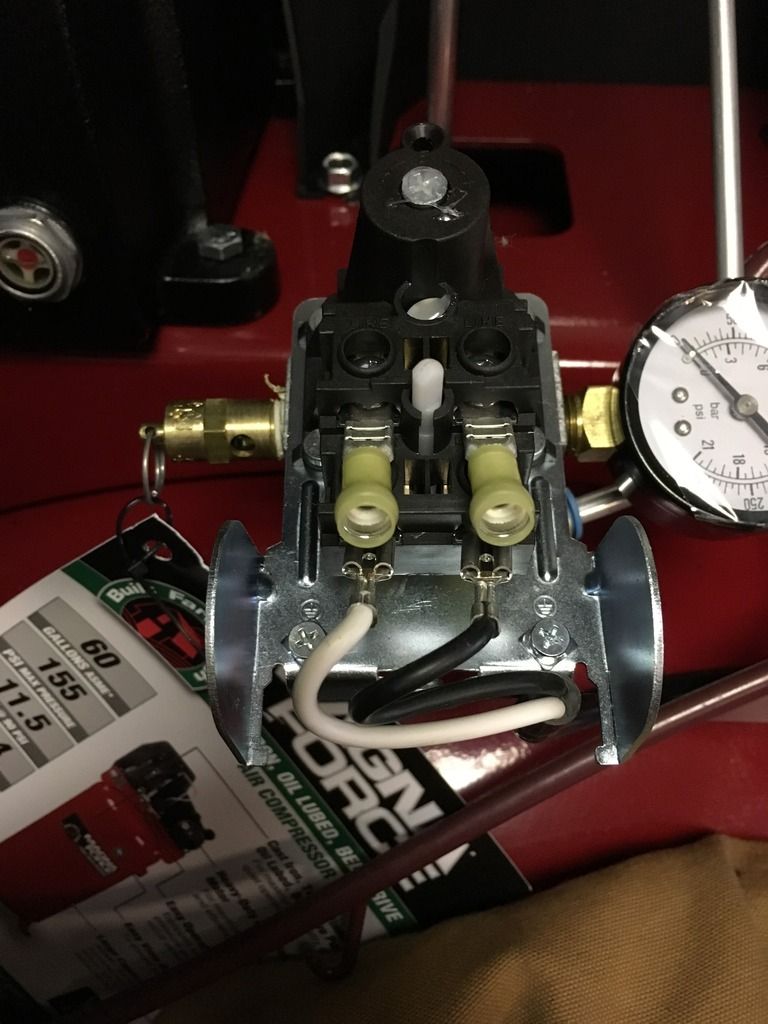 I already followed the 1/2hr initial break in procedure, followed by an oil change.
Now comes the real fun part, the plumbing of air lines.
This is the diagram they include in the manual as a
Typical Installation.
There are some parts of this recommendation that make me scratch my head and I will be deviating for my installation.
For example, I don't think I'll be doing the drop line top U-bends before dropping down, I think I will simply Tee off the main line and drop it right down.
And I will not be adding in the bypass(es)
So far.. 1" out of the compressor to a 1" ball valve to a 1"x1"x1" Tee, moisture trap on the bottom, and up top I screwed in a 1" male x 1/4" female plug/adapter so I could hook up a cheap pressure regulator I had sitting around until I get the rest of the system created. This isn't how it is actually plumbed in, this was my dry fit testing, where I found that I needed to reverse the ball valve orientation, in this picture, I couldn't open the valve all the way because the handle ran into the tank.
but that is exactly why I did a dry fitting before wrapping all the fittings with teflon tape and tightening them down.
My shop is 28x32, whichever previous owner built the shop put in (3) x 220/230/240 (whatever you kids are calling it these days) plug ins.
1 by the single car garage door, and then diagonally across the garage in the farthest away corner, he put one down low in the corner and another about 6ft away.
The compressor calls for 15amp, but my plugins all say they are 30amp.
Good thing these are P&S instead of P-n-S, otherwise I'd have to use my inner child voice and laugh at them.
This is the part I gripe a little bit.. it was $33 at Home Depot for the 10-3 wire (8ft) and the plug in end.
$33 for a simple plug in pig tail.. I've bought plenty of oven and clothes drier pig tails over the years for about $15-20 each, I never thought building my own would cost more..
(rant over, force myself to remember I'm trying to 'do it right' the first time)
My plan is to keep it as simple as possible and keep it all 1" for the main line, but from what I'm seeing, dropping down to 3/4" may be more cost effective.
I've been looking into using a short hydraulic line (2-4ft) after the ball valve and Tee, to get over to the wall and then I'll mount a "Master" pressure regulator (set at 100-120lbs) and at minimum some sort of moisture/oil trap.
Then I'll run it up to the ceiling and around the South and West walls of the shop with a couple drops at the workbench (southwest corner), between the doors I want one connection up high for a future hose reel, one down low for general use, and potentially one through the wall to the outside for future sandblasting (or painting), and then back up along the ceiling line, I'll continue the run over to the corner and add another drop for the sand blast cabinet.
I may connect the outside air connection to the same drop as the line for the sand blaster. The reason for that is I am planning on adding a desiccant drier on that line to ensure the cleanest/driest air.
Each drop along the walls would have its own pressure regulator (90lbs) and drain. (see letter "k" in the diagram above)