Click Here -> Please Consider Making a PayPal Contribution to the FordSix Forum!
2018 Contributors:

StarDiero75, curts56, DannyG, B RON CO, wsa111, Captainslow42, falconcritter
Econoline, THE FRENCHTOWN FLYER, 95FordFleetside, turbo6, Max_Effort, WorldChampGramp
cr_bobcat, C.S.Designs, pmuller9, gus91326, rwbrooks50, rocklord, drag-200stang, Big64my79Effie, CNC-Dude, gb500

2019 Contributors:

NJwpod, 1strodeo, mightynorseman, maxtrux, 6d7coupe, broncr, Phase3, 68Flareside240, bmbm40,
mustang6, WorldChampGramp, justintendo, BigBlue94, ags290, motorsickle1130, Rooster, ousooner919, ethanperry
Unknown->> M.Ketterer, T.Smith, J.Myers, P.McIntire - Please PM me (1966Mustang) and lemme know who you are!
New Member
Posts: 2
Joined: Mon May 04, 2015 4:39 pm
any comments or related experiences with the install of a monte carlo bar on a 67 six cylinder Mustang with standard 1v carb and distributor? pros/cons? straight versus curved?
---
use the search function. There are a lot of posts, including my own with pictures and suggestions. As recently as three or four months ago. Key words: monte carlo bar.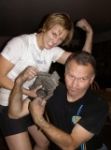 Livin' the dream. Dad n' daughter.
---
I have one in my 67. Mine is a straight-bar though. It really limits my options for an aircleaner. I would recommend a curved one to avoid the same issue. That being said, it really helped stiffen my front end. I had to use a jack and 4×4 to spread the frame. It's amazing how much sag these old cars can get
Block: Stock C8 Block/pistons, C9-M head, 1.75/1.5 valves, dual spring, 1.65 RAU Rockers, port divider, direct mount Holley 4412-500, HEI w/20* advance, manifold vac, dual-out Arvinode exhaust, Clay Smith 264/274 110* installed w/ 4* advance, adjustable dual chain timing, C4 w/ shift kit, 3.20 (TBC) rear ratio, 9.44 SCR / 7.97 DCR
Build that Six with parts from
http://www.vintageinlines.com
---
---
Who is online
Users browsing this forum: No registered users and 5 guests