Now that i finaly got my new airbox, i would like to present you my car and engine
Specs:
1969 Ford Mustang with 250CID L-Code engine
0.03 overbore
flattop pistons
head:
ACH-250-BSH, chamber size 58cc
camshaft:
CSC 264-12 DHS
full roller rockers:
YTA-200-FRR
pushrods:
Trick Flow TFS-21409000
bearing: Clevite MS979P10, tri metal TM-77
carburator:
PCA-480-4SB
airlcleaner:
ProCharger AM006A-001, low profile plenum
Spectre Performance 9833, aircleaner box (SPP-RAF-ICF)
Spectre Performance 9741, black air ducting
Spectre Performance 8704, 3" hose clamps
aircleaner makeshift:
ProCharger AM006A-001, low profile plenum
Spectre Performance 8136, P4 cone air filter blue (SPP-RAI-CAF, tall, blue)
Spectre Performance 8771, 3" coupler with hose clamps (SPP-RAI-COU, black)
Spectre Performance 8429, 3" Aluminium 22 deg. elbow
headers:
Clifford Perfomance 53-2112, black ceramtic coated
linkage:
Lokar TC-1000HT36, throttle cable, cut to size
Lokar SRK-4000, mounting bracket an springs
Lokar KDP-20C4HT, kickdown cable C4
distributor:
DUI-200-CIK
Flexplate: TCI Auto 529615 (Performance Automatic
PAX30213 DOES NOT FIT
the stock torque converter)
Starter: Powermaster 9103
we had to mill away the backside of the intake to clear the shock towers.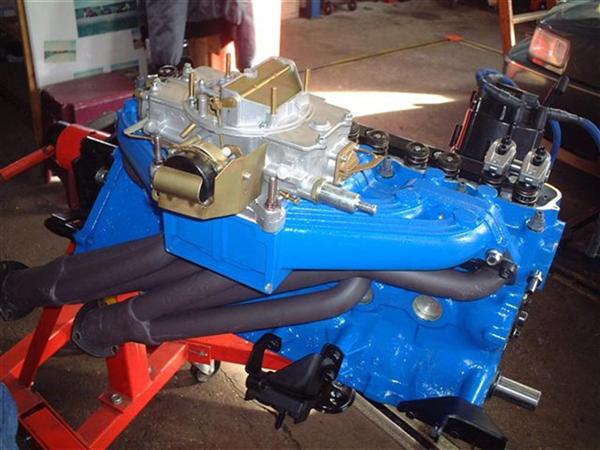 the filter looked cool, but was way to high
i had to get a makeshift because the spectre airbox was out of stock when the engine was finished.
i finally got the airbox and could replace the open spectre airfilter witch is illegal in our country.
if you look at the hood, you can see a cutout. we had to make room for the plenum.