Click Here -> Please Consider Making a PayPal Contribution to the FordSix Forum!
2019 Contributors:

NJwpod, 1strodeo, mightynorseman, maxtrux, 6d7coupe, broncr, Phase3, 68Flareside240, bmbm40, mustang6, WorldChampGramp, justintendo, BigBlue94, ags290, motorsickle1130, Rooster, ousooner919, ethanperry, rzcrisis, DoctorC, jamyers, Motorboy, fastpat, Silverback280, chad, drag-200stang, THE FRENCHTOWN FLYER, Jimmys61falcon, rjonah, Sooshi, Robert92867, Invectivus

PLEASE TEST ON
http://dev.fordsix.com
<<<***PLEASE READ*** New Site Update >>>
Registered User
Posts: 90
Joined: Tue Oct 02, 2018 11:58 am
Location: Dairy, Oregon
Contact:
Anyone use steele rubber products for the weather stripping, looking to get everything for my f100 and they seem good but spendy.
---
Global Moderator
Posts: 10291
Joined: Sun Jan 03, 2010 4:46 pm
Location: Flagstaff, Az. 86005 near the old Route 66
There one of the only companies making good quality weather stripping. Good luck
Even a bad day Drag Racing is still better than a good day at work!

Current project is a 1988 John Deere 420 Garden Tractor I need a few small parts to get it fixed, plus some cosmetic items, maybe a few attachments, if you happen to have or know of JD 420 parts would welcome the help!

My Ex-Inline 6 Fleet 1954 Customline 223 3 speed with O/D, 1963 Fairlane project drag car with BB6, 1977 Maverick 250 with C4, 1994 F-150 a 300 with 5 speed.
---
A bit old thread, but I just got mine from Dennis Carpenter. The quality is good.
---
First welcome aboard. Just take your time installing it.
What year & model are you working on??
67 mustang,C-4, with mod. 80 hd, custom 500 cfm carb with annular boosters, hooker headers, dual exh.-X pipe, flowmaster mufflers, DSII dist. MSD-6425CL & MSD-Blaster 8252 Coil. Engine 205" .030" over with offset ground crank & 1.65 roller rockers. 9.5 comp., Isky 262 cam.
2003 Ford Lightning daily driver. Recurving Distributors.
billythedistributorman@live.com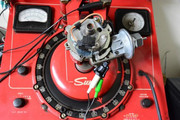 ---
Who is online
Users browsing this forum: No registered users and 4 guests