Late in the Summer (early Fall) of 2015 I had an opportunity to buy a truck that I have been after for a while.
One came up at a local auction sold as a:
1975 Ford F250 4x4 Crew Cab Short Bed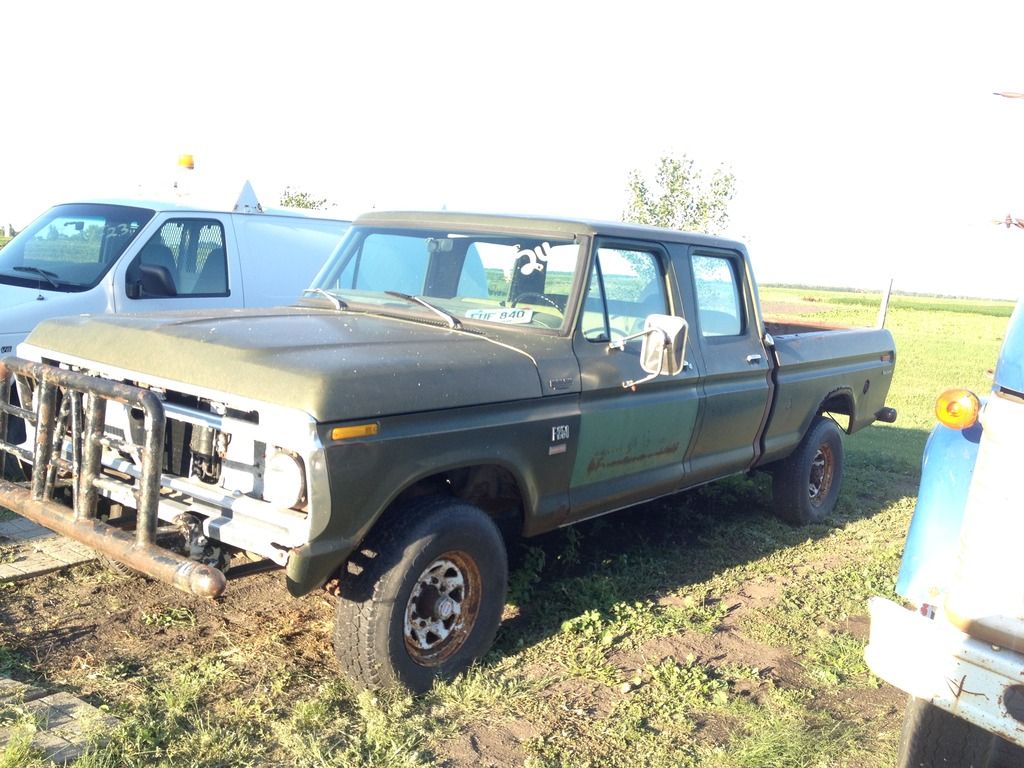 At the time of purchase it didn't matter which motor or transmission was in it, it didn't matter if there was rust in the fenders, doors, or box, so long as the cab was in decent shape and the motor ran, I wanted it and had to have it.
So I bought it.
Right away I knew something was 'off' about the truck, when I went to decode the VIN it came up as
F25YC
F25 - F250 2 Wheel Drive
Y - V8 - 360cid - 2BBL carb - 1973-76
C - Ontario, Canada
I found out much later that this truck started life as a '78 and was in an accident somewhere along the lines that necessitated a complete body swap.
So the drivetrain and frame is all 1978 F250 with modifications to fit the 1975 body.
For those that don't know, up until early '77 F250's ran 34" wide frames and in late '77 they switched to the more common 37" wide that is still in use today.
I wouldn't perform the swap just for the benefits, but it is nice to have.
But this truck is 4wd, and it has a 400 not a 360.
Long term, a 400 isn't going to work for me, I don't have any spare motors, I don't want to start collecting them.
By far most people who swap motors in these trucks go to either a 460 or a Cummins 6bt.
I already own a 6.0L PSD, one diesel is enough. With as much as I know about them now and with almost 70k on the one I have now, it would be an easy choice for me.
A 460 would drop right in, bolt up to the same transmission a fairly easy swap, but I plan on driving this truck a LOT and feeding 7.5L @ 75mph (empty no trailer) sounds expensive.
Goal
Daily Driver 25,000-35,000 miles per year @ highway speeds 55-80mph
I'd ideally like to get it into the mid teens for mpg, I do realize my speeds are the biggest MPG killer.
Has to stay low enough to fit into 7ft garage/shop doors
Has to perform all the same functions as my '05 F250 as far as towing
Has to be reliable
I'm *trying* to keep it simple
300-400hp motor with overdrive transmission (I'm not firmly set on manual or auto)
Plan (I'll come back and edit this section with links as I knock them off the punch list)
Take care of mechanical and safety needs first including
Tune up
Fix brake booster
Repair any obvious mechanical failures.
2009 F250 rear leaf springs to replace the broken 1978 leaves
2004 F250 X-code front leaf springs
Replace the rusted rear fuel tank
Add a second under-box fuel tank and remove the in-cab fuel tank.
Remove Custom welded on bumpers and install stock or custom bolt on bumpers.
Install receiver hitch (class III or better)
Install 5th wheel hitch
Install trailer brake controller and associated wiring
Install sway bars front and rear
Rust repair/replace as necessary, coat everything in Epoxy Primer
Eventually install 1999+ superduty crew cab front and rear seats
Mudflaps and running boards/side steps
Tinted windows
AC
Cruise
Tilt
I really do not love the home built bumpers, look how far this thing hangs down AND there is no easy way to change ball size.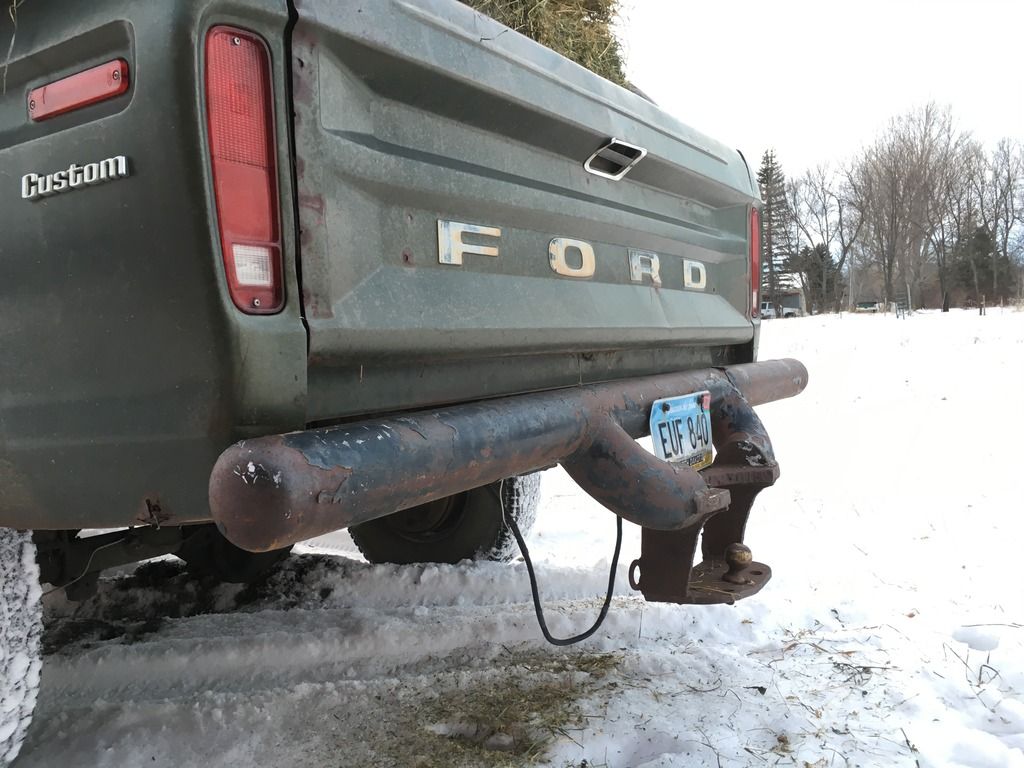 The front bumper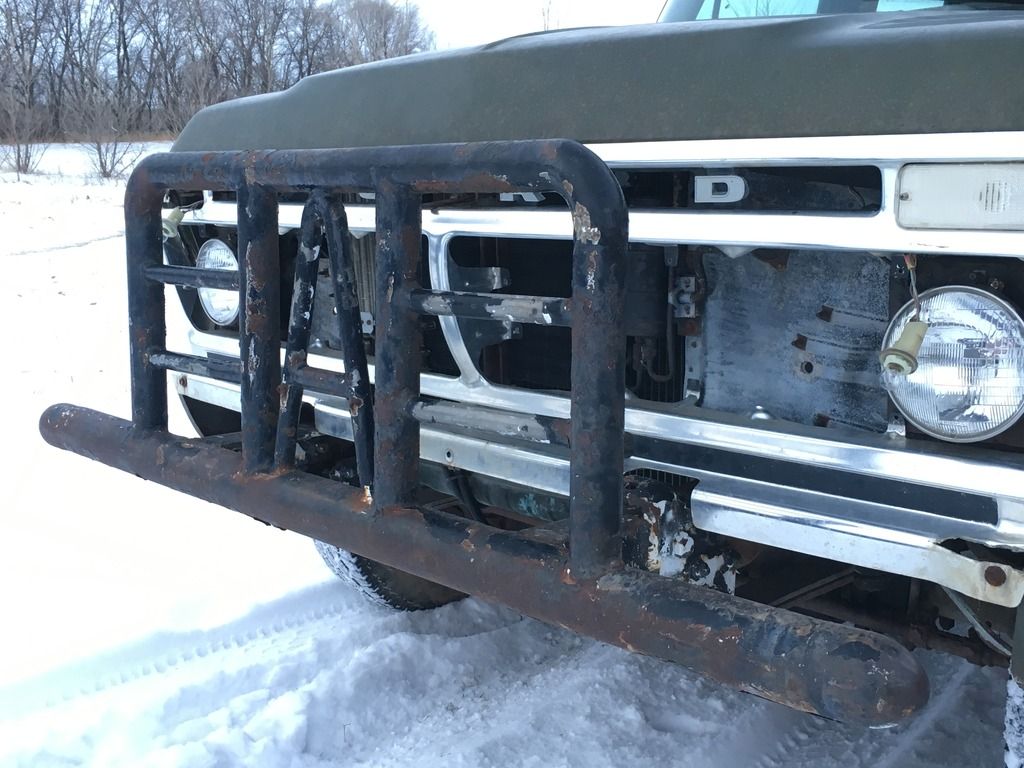 Just look at those welds