I finally got around to signing up with photobucket so I can post some pics here of my 86.
I bought this truck for $300 mostly for the body/frame and the transmission. It had an efi 302/AOD with multiple broken piston rings. Did some searching and found a 1991 f150 with a good running 300 i6, so I bought the motor, wire harness, motor mount brackets and ecm for $400.
I printed out the wiring diagrams and cut open the 91 harness and eliminted all the truck side stuff and emissions wiring so I had only what was needed to power the ecm and necessary sensors. I decided to keep the AOD since it required no wiring and I had a manual transmission ecm for the 300 so it worked together perfectly.
After I had it running I decided the stock ttb suspension was garbage and went looking for a set of 99-04 super duty axles to swap in. The main reasons for this were to have a solid front axle with modern sealed bearing hubs and rear disc brakes. I found a set in a 2001 f350 srw for $600 with a dana 60 front and full floating sterling 10.25 rear with 4.11 gears.
The rear axle was a direct bolt in swap, the only difficulty was having to swap yokes and find the correct conversion u joints to get the 86 driveshaft to work. The front axle was a little bit more of a job, you could almost squeeze it in there on a stock truck, but the spring perches are about 1/2 inch wider on the superduty axle so you have to stretch the springs a bit to line it up. I decided to build my own version of the skyy manufacturing rear shackle conversion kit instead, and built my new spring hangers to accomodate the difference in width. The whole job took a 3 day weekend to complete from measuring and designing to welding it all up and installing. Considering the time spent fabricating I could have just ordered their kit, but I believe mine is built alot heavier than their design so it was worth it i guess.
The truck has ran as my main work truck only semi-complete for the last 2 years issue free, now im taking it off the road again to do some more renovations. Here are some pics of the build (not in any particular order)
[image]
[/image]
[image]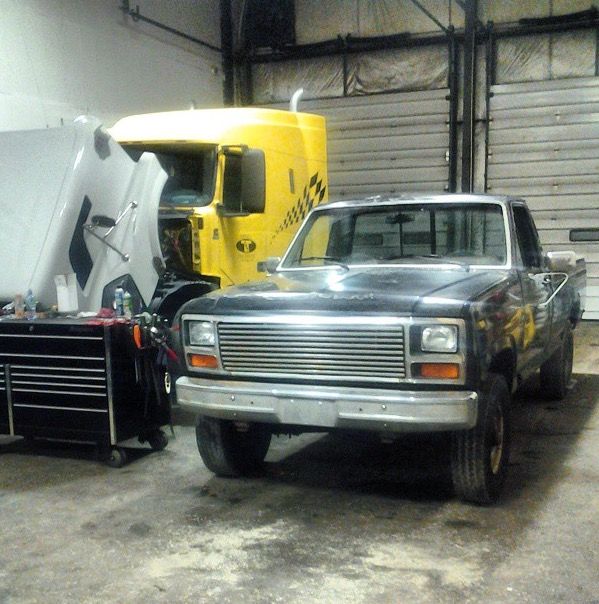 [/image]
[image]
[/image]