(Just a headz zup....Things aren't going so well down here for me. So I'm bolting...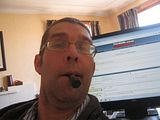 Credit crunch for me. I'm a lost cause at the moment. You guys know where to find me if ya need me...
I'm a roading technician with 27 years experience. For those of you who are self employed, when a business venture doesn't return, its like this...
I like it a lot less when you supply at a knock down price, and then no one likes what your selling....
I'm likely to have a long spell of absence people.