I do night drive overs and signs auditing in my 1981 Mustang. It uses headlamps without replaceable bulbs, the stock pre integrated headlamp sealed beam quad lamps. They are a bit of a bear to change, since most of our cars are European style integrated headlamp cars since 1978 or so. There are a lot of exceptions...Subarus, a few rear drive Corona's, JDM Mark II Toyotas, Colt Sigma and Galants from 1979 to 1982, our Falcon based ZJ/ZH Fairlanes from late 1979 to 1985.
On my local Tradme site, I have a set of American style Toyota quad headlamps off a TT132 Corona.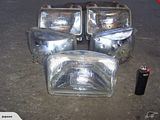 http://www.trademe.co.nz/motors/car-par ... 295795.htm
I'm looking for a regular, easy replacment for the Ford quad headlamps for 1979 to 1986 Ford Mustangs and Capris, and also the other quad lamp Foxes. Ford use a particular spade for electric linkages, and I've got to find a source locally that interchange with the Ford items.
These are Toyota ones, they have different grounds but are otherwise the same I think. Do the US 1983-1988 Mazda 626 or any other US import use the same headlamps. Sadly, the Ford Australia quad headlamp 1979-1985 ZJ ZH Fairmonts
looks a lot different to the headlamp of the Fox body Fords