Hi all,
So, recently it came to my attention that I have engine damage due to detonation.
I will be pulling the engine apart here in a month or so to replace the pistons, rings, connecting rod bearings, rehone, etc. to repair the damage.
To keep this from happening again, I'm looking into
why
. I have a custom curved HEI style distributor from DUI.
I run it at the 12° base timing that they call for and have, in the past, checked and verified the timing curvy myself, so I know it was working properly.
Recently, since I have a Holley Sniper EFI setup (and to keep this from ever happening again) I converted it to use computer controlled timing.
While pulling it apart, I thought I had found my issue. The pegs that the weights rotate on were heavily worn. I thought that maybe they'd been binding/hanging up and keeping the timing advanced while it shouldn't have been. Look at the far left and far right pegs, they're about worn halfway through.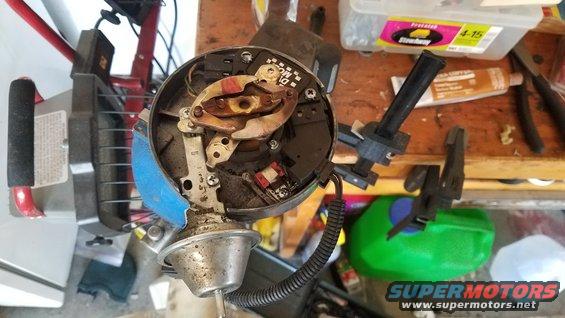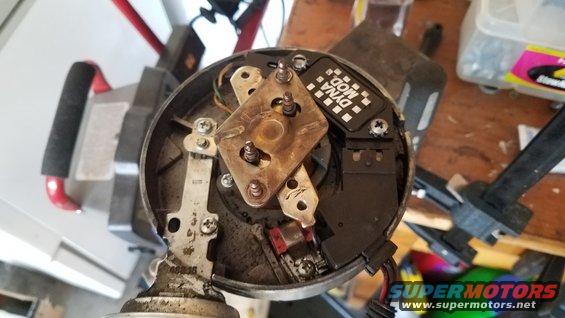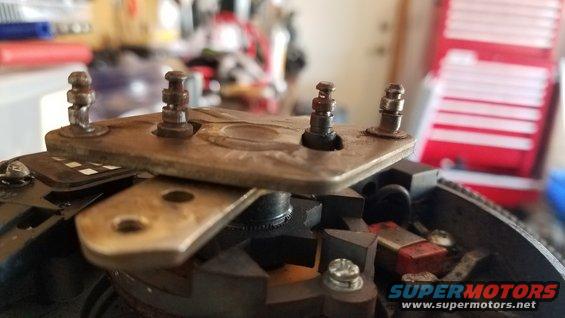 However, now that I have computer controlled timing, I recreated the timing curve that I had mapped out from my DUI unit, and can hear pinging throughout. I also tried uploading a timing curve that Holley designed for performance applications, and again have pinging all throughout.
So, I've been dropping the timing gradually. As I'm driving, I can set "static timing" with the handheld unit on the fly, so if I hear ping I can tap a button and immediately drop it to something safe, like 15°. If I hear the rattle/pinging go away, I know the sound was caused by too much timing.
I have a curve now that doesn't produce any ping, but it's extremely modest.
Peak "mechanical" doesn't come in fully until around 4000 RPMs, and even then, it's only 32°.
The "vacuum" advance is only about 6°, for a
total
of 38°.
Base is 15°
15 base + 17 mechanical + 6 vacuum
Could something else still be going on? Or does my cam/compression just require less timing?
Specs:
9.1:1 compression
Enlarged S.I. valves with head P&P
Cam specs:
Duration @ .050: 220/220
Duration Advertised: 284/284
Gross Lift: .504/.504
Lobe Center: 110
Thoughts?