Click Here -> Please Consider Making a PayPal Contribution to the FordSix Forum!
2019 Contributors:

NJwpod, 1strodeo, mightynorseman, maxtrux, 6d7coupe, broncr, Phase3, 68Flareside240, bmbm40, mustang6, WorldChampGramp, justintendo, BigBlue94, ags290, motorsickle1130, Rooster, ousooner919, ethanperry, rzcrisis, DoctorC, jamyers, Motorboy, fastpat, Silverback280, chad, drag-200stang, THE FRENCHTOWN FLYER, Jimmys61falcon, rjonah, Sooshi, Robert92867, Invectivus

PLEASE TEST ON
http://dev.fordsix.com
<<<***PLEASE READ*** New Site Update >>>
I here there is a lot of drone using the flowmasters. What would be a good muffler to use instead. And can I run the gt exhaust pipe thru stock valance.
---
Global Moderator
Posts: 9806
Joined: Sun Jan 03, 2010 4:46 pm
Location: Flagstaff, Az. 86005 near the old Route 66
I like the Turbo type mufflers.
A bad day Drag Racing is still better than a good day at work!
I am still hunting for a project car to build but with my current low budget it's not looking so good. My Ex- Fleet of Sixes these are all long gone!
1954 Customline 223 3 speed with O/D, 1963 Fairlane project drag car with BB6, 1977 Maverick 250 with C4, 1994 F-150 a 300 with 5 speed.
---
Registered User
Posts: 5279
Joined: Sat Oct 24, 2009 9:51 am
Location: Lawrence Swamp, S. Amherst, MA
there's at least 3 designs of 'mufflers'- chambered, turbo, glass pack...

I think the 'chambered' style is known 4 that (flowmaster) drone. Not too pleasant esp on a long trip.

As per bubba - try the turbo (I think it's a tube inside there, w/holes along the tube) they're reportedly better for that prob (and performance in many ford6 opinions). Our bud, Matt, at vintage inlines dot com can assist w/a purchase frm his stock. U could even put a resonator in there B4 the muffler to help the flowmaster...

U can have the 2 pipes go down the body & into a muffler or have a muffler for each side (1 or 2, ur choice).
DynoMax, Borla, Thrush have turbo style...however - many co.s (even these I believe) make all 3 varieties so double ck.
google for the 3 or 4 types for more info).

Good Luck & let us know how U do!
Last edited by
chad
on Sun Mar 18, 2018 12:55 am, edited 1 time in total.
"Big thing is only make one change at a time. Change 2 or more things at a time it becomes difficult to figure which change helped or hurt" turbo2256b » 1/16/2017
Chad - '70 LUEB on '77 frame (i.e. PS, D44, trapezoidal BB 9", 4.11), '69 250ci, NV 3550 & DSII, "T" D20/PTO, 2" SL, 1" BL, 4 discs, 33"X15", tool boxes, etc.
Seeking
: Hydraulic gear motor for Koenig pto.
chrlsful@aol.com
(413) 259-1749
---
My Flowmaster's make long trips fun.
They don't even bother my wife. But, if you don't want drone. You can also look into Widowmaker mufflers.
---
A crossover pipe or an X pipe will eliminate some of the drone.
If you can afford it Borla makes the best sound.
67 mustang,C-4, with mod. 80 hd, custom 500 cfm carb with annular boosters, hooker headers, dual exh.-X pipe, flowmaster mufflers, DSII dist. MSD-6425CL & MSD-Blaster 8252 Coil. Engine 205" .030" over with offset ground crank & 1.65 roller rockers. 9.5 comp., Isky 262 cam.
2003 Ford Lightning daily driver. Recurving Distributors.
billythedistributorman@live.com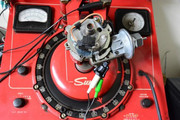 ---
Do you have to modify the z bar?
---
Who is online
Users browsing this forum: B RON CO and 49 guests