Click Here -> Please Consider Making a PayPal Contribution to the FordSix Forum!
2018 Contributors:

StarDiero75, curts56, DannyG, B RON CO, wsa111, Captainslow42, falconcritter
Econoline, THE FRENCHTOWN FLYER, 95FordFleetside, turbo6, Max_Effort, WorldChampGramp
cr_bobcat, C.S.Designs, pmuller9, gus91326, rwbrooks50, rocklord, drag-200stang, Big64my79Effie, CNC-Dude, gb500

2019 Contributors:

NJwpod, 1strodeo, mightynorseman, maxtrux, 6d7coupe, broncr, Phase3, 68Flareside240, bmbm40,
mustang6, WorldChampGramp, justintendo, BigBlue94, ags290, motorsickle1130, Rooster, ousooner919, ethanperry
Unknown->> M.Ketterer, T.Smith, J.Myers, P.McIntire - Please PM me (1966Mustang) and lemme know who you are!
i live in huntsville and am trying to avoid traveling too far to get my machine work done.
---
There used to be some good race shops in Huntsville, shouldn't be to hard to locate. Just go to the nearest Dragstrip and ask around if you can't find anything in the phone book. Birmingham use to have several good ones too....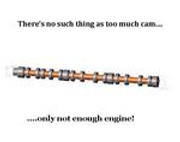 ---
Registered User
Posts: 102
Joined: Fri Nov 08, 2002 9:06 am
Location: Rocket City
I've had work done by both Huntsville Engine and R&R Speed and Machine. I had R&R do all the work on my last engine rebuild and my brother had them do the work to his 2.3l ford. They are fair and honest folks who do outstanding work.
In Thrust We Trust.
'94 f150, 4.9l
---
Go to Birmingham and use Precision Automotive Machine on Richard Arrington Blvd. Best trip that you will ever take.
2008 Mercedes E-Class
1999 Mercedes E-Class
1985 Chevrolet C20 Suburban 7.4L
1981 Ford Granada 3.3L
1964 Chevrolet Impala SS 327
---
Who is online
Users browsing this forum: No registered users and 1 guest