Same as the 69 US 318 LA, or B series 361 Dodge Adventerer pickup 2-BBL Stromberg WW 2-barrel carburetor carb, ID number 3-223a.
Details
http://i.ebayimg.com/images/g/bbwAAOSwu ... -l1600.jpg
http://i.ebayimg.com/images/g/S88AAOSwA ... -l1600.jpg
http://i.ebayimg.com/images/g/zHIAAOSww ... -l1600.jpg
http://www.aus-ford-uk.co.uk/html/engines2.html
The 250 2V was only offered on the XY and XA model Falcons. For the XB, Ford reverted back to the 'log' manifold with a single barrel carb. The reason for this is unclear, but it may have been an attempt to encourage buyers up to move up to the new 302C V8 if they wanted more performance.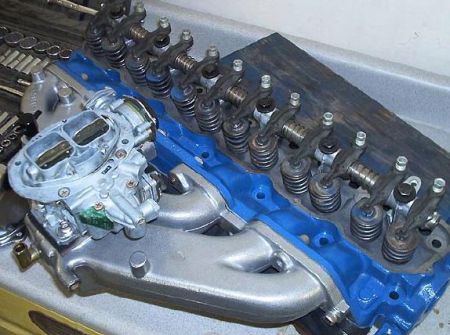 In the above photo, the inlet manifold has been fitted with a Holley two barrel carburettor.
From the factory, the 250 2V got the same Stromberg WW two barrel carb as the 302ci V8's, shown below.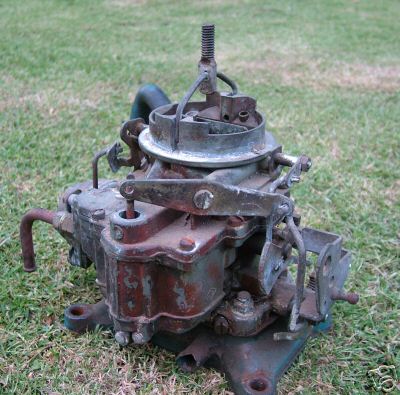 http://www.carbkitsource.com/manuals/ca ... CM017.html
http://www.carbkitsource.com/carbs/kits/CK017.htm
Cfm, top cover and base bolt spacing varied on others, but it was the same as the smaller Mopar 318 carb.
viewtopic.php?f=3&t=65134
Its an ancient, cheap and nasty carb, made under liecence in Sydney Australia from Bendix Stromberg Corp, but was also found on 1953-1967 Plymouths, GM Buicks and GMC's and some Mopar products in the US, before the Email/Carter 2-bbl got used in the late sixties. Also Studebakers after the AMC era.

You can do better than paying 1000 Australian on a numbers match M code 170 HP carb, as the basic Bendix Stromberg the most common 2-bbl carb made in Australia from 1968 to 1979, and one of the most common 2-bbls fro 1953 to 1967 in America.

Just like the 170/188/200/221/250 Stromberg 1-bbl carb, which was actually an American Plymouth/AMC, Holdens 138-200 from 1963-1979. They even cast the name of Sydney as Sidney on early versions! The later 1-bbl 3.3 and 4.1 106 to 123 hp versions made by Bendix Australia were still making the 1-bbl versions move the XD Falcons, F100's and TF Cortina in 1982, so the hard parts are in abundance!

So you can get a replacement 2-bbl Stromberg WW parts from the US as well as Australia, there was a WWC version for the Toilet challenged

.

US/Canadian Listings are :

•Stromberg WW for 1953-56 Dodge

•Stromberg WW / WWC for 1956-69 GMC

•Stromberg WW for Buick, Gray Marine and GMC

•Stromberg WW for 1957-61 Buick

•Stromberg WWC for 361, 383 Mopar Applications

•Stromberg WW for 1960-67 Mopar

Part number specific kit parts for US versions are

•CK17 Stromberg WW

•CK41 Stromberg WWC

•CK49 Stromberg WW

•CK50 Stromberg WW

•CK501 Stromberg WW

•CK525 Stromberg WW

•CK526 Stromberg WW

•CK528 Stromberg WW

•CK529 Stromberg WW

•CK543 Stromberg WW

See

http://www.carbkitsource.com/carbs/tech ... arrel.html

For Stubebaker and Dodge ,see

http://www.carburetor-parts.com/Strombe ... p/4024.htm

Studebaker

1964-63 259" 4.2L, 289" 4.7L,

Made in USA

Meets or Exceeds Manufactures Specifications

Free Electronic Carburetor Manual

Flange Gasket Included

Correct for carburetor numbers:

6-130 6-131 6-132 6-133

For Dodge

1955 D-56 232"

1955-56 D-56 "J" Series

1955 D-55-1-2 Red Ram, D-55-3 Super Red Ram 270"

Dodge Truck

1955-56 270" VT-334, VT-336, VT-338, VT-342, VT-344, VT-346, VTX-342, VTX-346

Carburetor Numbers:

3-120 3-121 3-122 3-124 3-125 3-126 3-128 3-131 3-132 3-133 3-134 3-141 3-142 3-143 3-144 3-145

And YEAR MAKE MODEL CARBURETOR NUMBER

1961 Buick 4400 Le Sabre

7-114, 7-114A

1953-54

Dodge

D-44, D-48, D-50, D-53

3-105, 3-105A, 3-106, 3-108, 3-108A, 3-109, 3-109A

1972-73

GMC

305", 351", 379"

23-244, 23-248, 23-257

1973-74

478 cubic inch"

23-264

1963-64

Studebaker

Challenger, Cruiser, Commander, Hawk, Lark

6-130, 6-132

1963-64

8E7, 8E9, 8E12, 8E13, 8E28, 8E40

6-130, 6-131, 6-132, 6-

The Aussie versions were used on the following nine modles, there may have been others with it, like the 2-bbl Hemi or Slant six Aussie Valiants.

1.1969 GTR 161S, the 2650 Torana with 2-bbl, 145 hp I think

2.1968-1970 The H series Kingswood and Monaros with the 186S option, 135 hp

3.1969-1979 253, all of the H, L , V and U series Holdens (up to before the VC/WB Ute XT5 4.2 got the Rochester 4MV in 1980) 185 hp Gross or a lousy 117 hp DIN net rating with Dual Exhasts, even less with single exhast in VB Commodore.

4.1970-1974 F100 (and XY's with 302 Windsor) 200 hp rating I think. My neighbours NZ spec F100 had a factory Aussie market Windsor 302, and it was right hand drive 1974, way after the 1972 2-bbl 302C was an XY/XA/XC option.

5.1971-1974 170 hp gross 250 2v

6.1971-1976 240 hp gross 302 2v Cleveland

7.1972-1976 260 hp gross 351 2v Cleveland

8.1976-1979 207 hp SAE net XC 2-bbl 4.9 (New Zealand*)

9.1976-1979 193 hp single exhast XC 2-bbl 4.9 (New Zealand*)

Every NZ 4.9 XC I've seen missed out on the Carter Themoquad, but I didn't see many.

The GM version of the WW and the Ford version didn't have the Holley 2300/Rochester 2 Jet or 2100/2150 stud pattern, it was an oddball stud pattern. I have a WW250 2V base downstairs. A Redline adaptor was used for 350/500 conversions, I think.