Here is a quick run down of my conversion to a Carter YF 1bbl and throttle cable....this one for David S. Thanks for all your Fordsix help!
My Pony Vaporizer cracked right on the boss for the fuel inlet threads that receive the factory fuel filter (will try to post pic here later). Like the sign outside the mortuary (Halloween obligatory), it 'remains to be seen' if this crack in the upper air horn is repairable. Since the annular venturi of the Pony 1v is integral to that part of the carb, a substitution yields only a standard 1100.
At any rate, thanks to the posts here on cable swap, I switched over to a Chinese 'knock-off' of the Carter YF. It's a new casting being imported by a few sources and available on fleabay for about $150.
Cons: Pretty much requires a switch to a throttle cable for smooth and full accelerator actuation. Only available in ~1.75" bore. Don't know for certain the CFM. Maintenance heave from what I have read, and lastly, a bit tall.
Pros: She runs decent right out of the box. Cold Idle/choked setting is too high, and warm idle curb setting is as well. Easily adjusted. Other than that I'm very surprised it is not overly rich or lean from initial driving and diagnosis. Now I just need a good cheap ('free'?) read on tuning the YF, and a super low profile filter setup to give it the real acid test. Not sure the stocker Mav/Granada/etc. type drop filter will cut it, and I still need to get some clay or some such and measure just how much room I have...but here's a couple pics so far...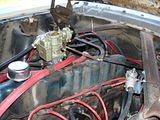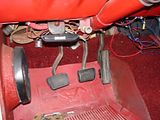 'Required/Recommended' Mod - Cable Throttle: The cable pedal I just got lucky. A yard here in DFW had a Granada that had been there for less than a week and was completely picked clean, except for the pedal and throttle cable. Unfortunately for me it was a Bent8 so the cable came up too short (about 17" total). Purchased a cable for a 1980 Fairmont (again thanks to this forum...approx. 26" long), and I was in business after a quick white trash bracket fab. Also made use of a 3/4" piece of MDF to space the pedal mounting bracket far enough away from the firewall to give full actuation. I'm swapping that out for block of aluminum this weekend or next.
This was a reasonable mod with a $5 pedal assembly and $30 new cable plus the cost of the carb, but will stop short of saying a slam dunk win-win until I get it dialed in, the filter worked out and the first tank or two mpg readings.
Cheers and Good Luck!