I'm having to build my own 3.3L (200 CID) header, because I like long trips, knowing I can find stock V-Belts anywhere. So an Aussie friend donated flanges and collectors, and sent them to me. Single exhaust, 2 tri-y collectors into a 2 in one collector.
Now to make it really challenging, My motor is out of the car, because I'm repairing the driver's side fender core, but I'm using the head off another 1978 Zephyr donor car that I bought for the body parts and the spare I6. I'll use that engine to build up a tri-power, mild cammed 140 HP machine for regular driving.
Its too cold to work in my plastic car shelter until early April, up here, north of North Dakota, so I brought the head in and 'mapped out' the header issues and obstacles via dimensions and key locations, like the AC bracket, the K-member, starter, and of course, the exhaust ports. Then I used metal, coloured clothes hanger wire to get some general idea of the angles from the head to the collectors.
Here's the starting progress pics: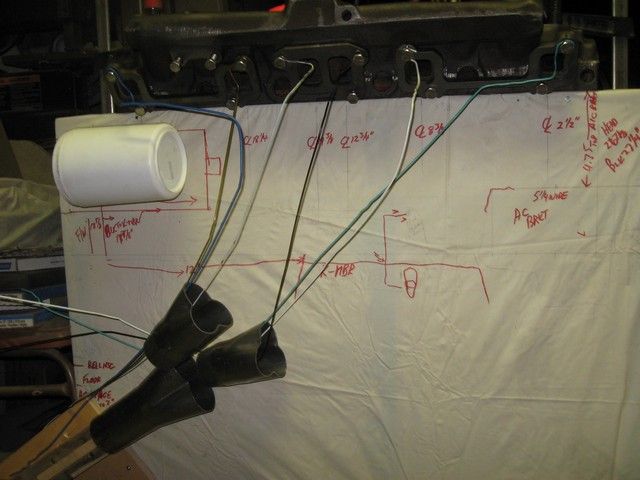 This aqua blue wire shows what I want close to the AC:
This shows the rough standout distance from the block: