... good discussion topic :
The small block six's intake may be heated suitable for optimum atomization for combustion with normal loads. With performance engines the heat produced is referenced to the power output and header heat can be an issue if not a serious concern.
the '61 Comet 250/Tri Power has a teardrop 'Thunderbolt' hood chosen partially for helping with the intense heat that rises after a hot shutdown. Also the carb fuel lines are routed up and away from log manifold and exhaust area. Header wrap is probably a reasonable option but also has issues to deal with.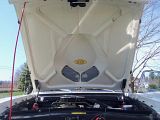 ..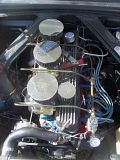 .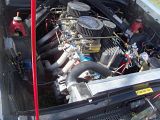 Stock Mavericks have an aluminum sheet heat deflector under carb base adapter extends out over exh. After installing headers on a little Miata, I built a similar aluminum heat shield because headers were melting underhood plastics nearby ...